Italian Nightlife Bras, Pubs, Places – Top 10 places for nightlife in Italy for you to enjoy life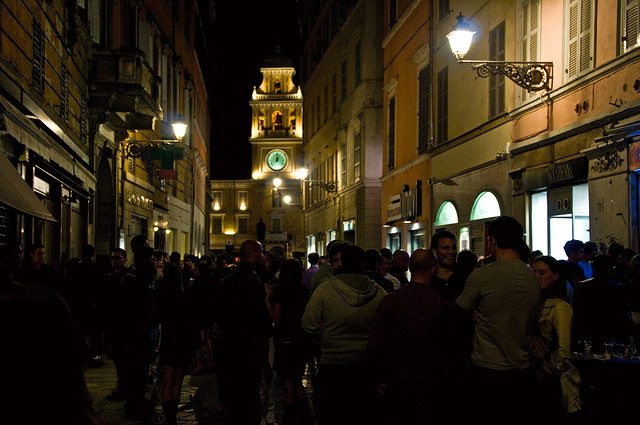 Italy is a remarkable place for nightlife, as you can find many pubs, bars and clubs. This is the main reason; it attracts tourists across the world. Below mentioned are the top 10 places for nightlife in Italy that are known to be extremely famous.
 Tenax – It is a famous club in Italy located at Florence. It was established by young entrepreneurs in 1981. Its special intention is always dedicated to the sound system and animation of the parties. The strength of the club is 2000 people. Tenax is only an Italian club that hosts parties in Japan, Miami, Berlin and London.
  Cocorico – It is a popular discotheque in Italy located at Riccione. It can accommodate up to 6000 people and is equipped with a powerful Funktion – one sound system, the console is covered by a majestic lead wall.
  Blob Club – It is a two complex venue. Here you will find a downstairs bar and lounge decorated with wood-framed paintings. Blob club is a place to go to hear a change of pace in music. It is located in Vinegia. It is a cozy two-story lounge and club that is crowded early and stays night long.
  Flo Lounge Bar – It is located in Piazzale Michelangelo and it is open for aperitivo before opening up the dance floor at night. It opens only in summer seasons. There is no entrance fee, but the drinks are very expensive. A series of outdoor bars with white canopies frame a center lounge that doubles a supper club by evening and dance floor by night as house DJs blare hip-hop and Italian rock anthems till 3am.
  Otel Variete – It is situated in Firenze. It is open only in winter season. This is famous for their dinner show, disco and a large aperitivo show. It is beautiful classy club in Italy. The aperitivo shows are opened only in Sunday night.
  La Rotonda – It is located in Firenze. It is a restaurant which had turned into a live music, bar, club on certain nights. They have Cuban music as well and also includes samba or salsa for those who love. On Friday, Saturday and Sunday nights, you can listen to the Dj's and music.
  Galleria Vittorio Emanuele II – It is a shopping destination located in Milan. It includes nightlife venues like Zucca and upscale cafes like Gucci cafe. It is a most famous nightlife site of tourist. It is a retail hotspot window-shopping place.
  Lambrate Brewery – It is located in Milan. It is a brewery show for beer-lovers. The brewery serves beverages which brews onsite and has a full menu of beers. The warm feel and relaxed atmosphere have made it one of the most pleasant places in Milan to get a drink.
  Leoncavallo and Rolling stone – These are two major venues of Milan for people who like live music. Not only Italian bands takes place here but also European and American acts are played here.
  Ketum Bar – It is a dance club situated in Rome. It is an excellent place for people-watchers with a bit of culture. Its walls are covered with glass which shows off shards of 1st century amphorae which reminds that bar was carved out of mountain pottery.
With loads of pubs, bars and discos in the country, you would often meet up with one when you turn in every square of the many cities. For instance, Rome, where the night life starts late and you need to wait patiently as the discussion for night life takes and eternity. However this is much needed to know where to head to.