Greek Restaurants – Top 10 brilliant restaurants in Greece, Europe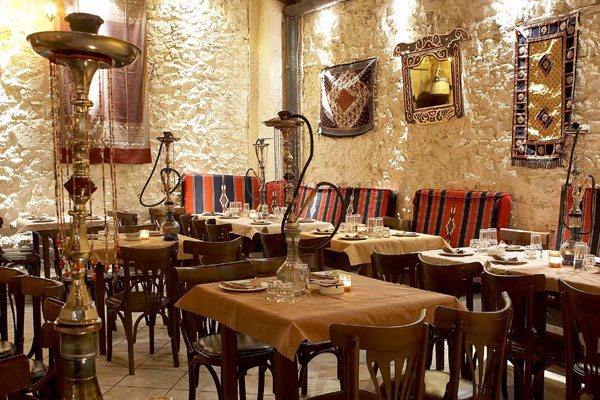 Want to try the delectable cuisines in Greece and cherish it for long? This is known to be one among the many amazing and stunning tourist destinations in the world that serves various authentic dishes of local origin and also different types of international cuisines; you will not be disappointed even if you want try Lebanese, Thai, Chinese, Continental, European or authentic American delicacies. Below mentioned are the top 10 restaurants in Greece that you will love to visit and these are known to be the best tourist attractions as well.
 Hatzis – This restaurant was set up in the year 1908. The dishes have the wonderful taste that was originated during the times of Old Constantinople. The various types of sweets served here are known to be the best of all. They include vezir parmak, hanoum bourek, malempi mastiha and a lot more.
 Kitchen Bar – This cafe cum restaurant can be one of the best places to spend your evenings with your loved ones. The salads and risottos served here are known to be the best as they are done by great chefs.
  Paradosiako – This is the best restaurant that serves the best traditional dishes at very reasonable rate. The main menu includes fresh and amazing seafood. The ambience is cozy and informal, great for evenings.
  Harmony – This is a great bar for you to enjoy. The Tex-Mex food is known to be the best here. The live music played here is something that you will love and this should not be missed. The dishes are extremely delicious and you will just love them.
  Varsos – This place is known to be very renowned for the amazing and traditional sweets and the dairy products make since the year 1892. The place is known to have an old style and various food stuffs like rice pudding, scrumptious cheese pies, honey pastries and a lot more.
  Waves on the Rock – This is a best place in Italy where you can enjoy various fish dishes. If you are a fish fan, then this place is greatly recommended for you.
  Thalassino Ageri – This is a very delightful eating spot. You can have excellent fresh fish here and various other delicious dishes like octopus in wine vinegar, fisherman's salad and various other things can be very well-enjoyed.
 Yiorgos Hatziparaskos – Here you can find the best hand-made pastry. The amazing Kataifi and the baklava are the best here and you will enjoy having them. If you have a sweet tooth, then this place is something that should not be missed.
 Antica Gelateria di Roma – This is a very famous Italian gelati shop. Traditional gelati is served here and this is a unique place of Greece. So the next time you visit Greece, make sure not to miss it. You will surely have a lot of joy here.
 Paradise restaurant – This restaurant is known to be filled with lush flower garden and is run by Evdokia. The vegetarian dishes in this restaurant are known to be the best. The chickpea rissoles, filo-pastry turnovers with amazing fillings like different vegetables, aubergine, and onion are known to be the best. Stuffed mushrooms and zucchini flowers are also known to be the specialities of this place.
The above mentioned restaurants make a great choice for food lovers as you get authentic food at reasonable cost. The polite hospitality and excellent environment of these places are more reasons that pull you back. Some cafes and bistros in Greece are also catching up fast the food industry.