Eroticism in Khajuraho – The Philosophy behind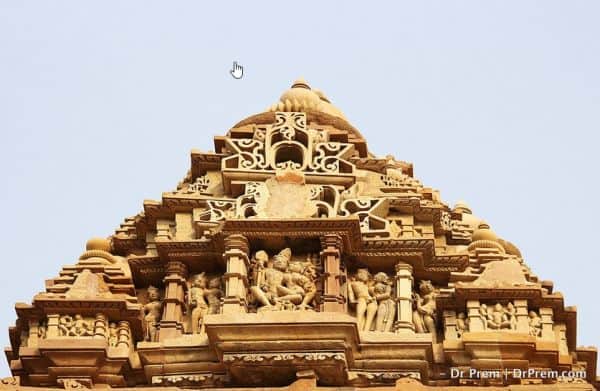 "Passionate couple sculpted in granite and pressed into an act of coitus hung before my eyes from the temple wall. The expression in the faces was furrowed with intense pleasure" Mr Alexander finished his statement with a broad grin showing really bad tobacco stained teeth and lit up a cigarette. "There was a foot long elephant carved out of stone just adjacent to the busy couple' he continued. The beast was exquisitely crafted and I couldn't help appreciating the mastermind behind the creation. More surprise was waiting for me as I closed in on the work of art. The granite pachyderm cast a sidelong glance at the ecstatic couple and was actually smiling" the curator of The Indian Museum broke into waves of laughter showing his nicotine coated set once again.
The significance of carnal pleasure influenced the lives of people in India in the medieval ages between the 10th and the 12th centuries. It was a medium of supreme attainment in life and was patronized by Chandela Rajput kings of Bundelkhand, the territory in which Khajuraho is located. It paved the path of unification with the divine, the different postures of sexual intercourse between man and woman, man and man and between man and beast was immortalized in art. Elaborately carved monuments are embellished with designs of sexual ardor, eroticism, dance, melody and other artistic ventures. Majority of the statues are however chiseled in softer sand stone as granite is hard to chip, the subjects nevertheless pulsate with life.
It is pleasantly astounding to discover life in the past was so much aware of the multifarious amazing ways of unification between individuals in single and in groups. It leaves you wondering if sex occupied all the waking hours in their lives. The purpose behind inspiring sex in art has different connotations. The most popular undertone is to educate people with a profound comprehension of their most basic and primitive worldly desires. As if it is strongly suggested that the fundamental needs of man like food, clothing and shelter remains an incomplete list unless sex is included as well. Love making was not a mere act but it was studied, cultivated and practiced with dedication and relish.
The existence of erotic art in the sacred grounds with temples in close vicinity has been the result of serious deliberation. It was considered a good omen to the builders and temple masons. The open minded stance towards sex and glamorizing it to the height of delicate art is a clear indication of a society blessed with prosperity and bliss.