Do's and don'ts of romantic tourism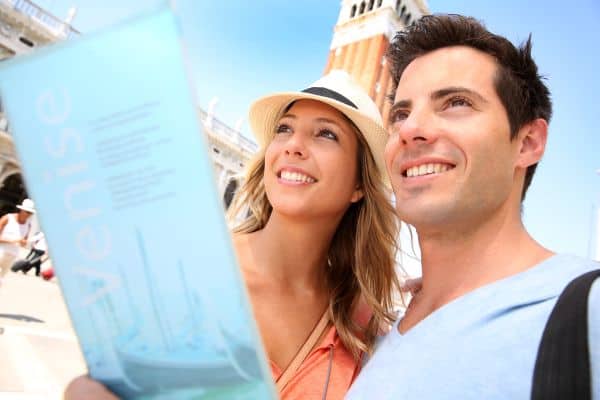 Certain dos and don'ts should stand as a guideline so as to make the trip for both of you a pleasant experience and not a harrowing ordeal. The following are a brief outline of certain things you should do and from which you should stay away.
a) While doing romantic tourism, make sure you are not inflamed too much with passion to the point of obscenity, which the locals may resent.
b) The essence of romantic tourism is tranquility and solitude. The lovers like to stay far from the crowd. A serene and disturbance free environment is all what they look for. Too much of desolation is bad. For obvious reasons, there should people around when both of you really need help in distress.
c) The lovers should not wander around late night in empty streets and alleys.
e) The address of the hotel and its reception contacts should be kept at hand as is the contact detail of the local police station.
f) Love birds are advised not to put on a lot of expensive jewelry and other valuables on open display nor are they advised to go daringly care free.
g) Lovers are expected to show respect to the local beliefs, culture and customs. Blind by a fit of passion, an alien ritual or dress should not be ridiculed no matter how funny they may appear.
h) Over a drink or coffee, never discuss your itinerary in detail with strangers. Neither should you disclose your identity and other details to them.
i) Keep your valuable documents like passport, air tickets, bank cards etc under proper care. Keep photocopies of the essential documents..
k) Better not to eat from roadside kiosks though the flavor of the food may be overwhelming. Select decent eateries with the right ambiance.
l) It is always good to buy your sweetheart something very representative of the destination visited like a Swiss watch when you both are romancing out in Swiss Alps. Artifacts, gifts and mementos recall back the sweet moments spent together.
m) Never go extremely daring to prove a point to your partner. Dangerous sports like bungee jumping and sky diving are not recommended without an expert guide or if you are not comfortable at those sports. Keep your talents in reserve. Let not the fire of unleashed passion burns it. Remember you need to go for more romantic trips in the future it is wise to keep your romantic passion under control.
n) Clicking shots is a must do thing in romantic tourism. Strike your favorite poses together and let the lens capture the images. This will keep your passion sustained in the future whenever both of you take a glance.
o) Browsing local handicrafts and other works of art is a source of joy for both. But the price tag is often inflated. You can test your bargaining skills. Search for authentic craftsmanship or else you will land up buying trash. The search itself exposes you to joyful moments. It will be a mood refreshing endeavor.
p) Binging on local homemade chocolates is a great fun in Romantic tourism. This would elevate your passion. The authentic taste is retained. However, the hygiene of the place of manufacture is a factor to reckon.
q)If both of you are art inclined and you happen to be in Italy, don't forget to load your luggage with paint sets and gorgeously done oil canvases that the art vendors put on sale in Piazzas and along sidewalks.
r) Love destinations like Venice and Milan are crammed with master pickpockets. They have perfected this art taking it to amazing heights of expertise. Let not the height of romance put you off your feet. Keep an alert eye on your luggage else you may have to repent.
s) Certain tourist traps like overpriced restaurants serving ordinary food are to be avoided. The vibes inside these eateries are quite dreamy. Soft light and soft music keep you company. How unromantic would be the consequence when the waiter walks in with an enormous dinner bill!
t) In romantic tourism, cab rides are cozier than bus rides. The opportunity to get romantic is more due to the privacy of the rides. But cab parking is often very expensive and needs to be given a thought. Venice is a bright example. Leave your cab on the main road to save an enormous parking fee. Take a public transport to the Venetian lagoon and then onto the water buses.
u) When touring Paris with your lover you got to be wary selecting your menu for food and drink. A little tip on avoiding drainage on your purse is not to go for A la carte choice. Go for fixed priced menus for they will be economical as well as filling with great aroma and taste.