10 Most overhyped romantic destinations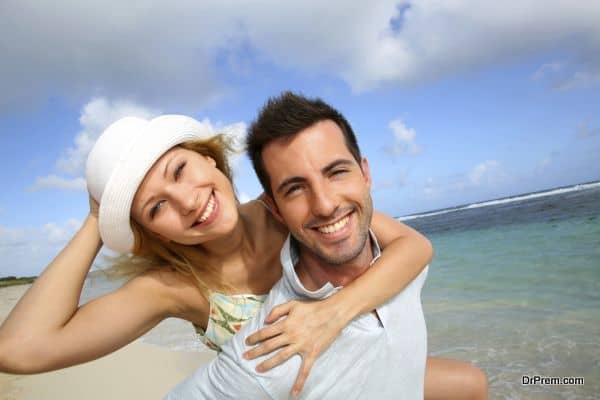 When we talk of a romantic destination, a picture pops up in mind featuring a tranquil and exotic ambience with breathtakingly wonderful scenery spread out and super cozy resort where both the lovers have all what they want at their beck and call. Presence of art galleries and historical ruins with good food and finest of wines would be added bonus. Well, there are places having a bit of all the elements stated above but stronger is the marketing making these places look attractive to a level which they are actually not. Promotional hype plays a major role. The end result is discouraging as obvious leading to lovers leaving these so-called romantic destinations with grumbles and displeasure written all over their faces.
Here we go enlisting ten so called romantic destinations whose existence would have been lost into oblivion if not strategically hyped for tourist attraction.
1)Namiseom Island, South Korea:
This island located at a distance of about 63 km from the capital Seoul is much advertised to be romantic, but one who spends a valentine here realizes it is simply a marketing ploy. There is nothing interesting that could specifically be appealing to the love birds. This place is however remembered as a shooting location for a famous Korean movie. Besides other areas of interest are wonderful tree lined avenues and theme parks. But to be fair, the essential elements that would stir the lovers' hearts are entirely missing.
2) Las Vegas:
The initial impact of this destination is mind-blowing upon the visitors. The pulsating lights and boisterous vibes may stun you momentarily, but soon enough you and your paramour would realize this is not your cup of tea. Las Vegas is rather an unfamiliar world appealing more to the gambling crowd and those who have acquired enough wealth and have earned it rather fast. By no standards it could be rated as a decent romantic spot that the lovers look for visiting.
3)Yungas road, the road to death, La Paz , Bolivia:
Hyped by the media, this road is thought to be the most dangerous and notorious ever achieving a worldwide fame. This road is supposed to give an intense thrill to the lovers in quest for a romantic sojourn. However, the fame is supported by more than a fair share of promotional efforts by the media in romantic circles. The road runs downhill and there hasn't been any report of high voltage thrill giving enough kick for your adrenaline to race. It is infamously called the death road without any justification of its naming.
4) Buenos Aires, Argentina:
Much hyped by the media as lovers' paradise, this South American city doesn't worth its fame to be an ideal romantic getaway as it is thought to be. This city is not at all visitor friendly. It is pricey with the locals pretending to be the biggest smart-asses in the world when they are actually not.
5) Berlin, Germany:
This city is also promoted too much to be a heaven for romantic pairs. To be true, besides being a very expensive city, the lifestyle is too much of a straight jacket with the environment devoid of openness. Moreover, lovers would never agree that this city promises a great weather profile.
6) Times Square, London:
Although this is a very popular destination for love birds, the bland English weather doesn't promise much of a romantic excitement to lovers. The place is overcrowded with street vendors and public entertainers going for your wallet.
7) The Little Mermaid, Copenhagen:
This is another of those much hyped works of art that is believed to inspire romance between lovers. But, to be honest, this statue is most ordinary and doesn't merit much praise. It is just one of those statues that don't draw much attention either from the angle of art or romance.
8) The Caribbean islands:
It is a fact that the Caribbean islands offer a murderous beauty and are sure to lure love birds in waves in search of romantic spots. The air in these islands is literally thick with romance intoxicating the visitors. The palm fringed sea beaches and an exquisite blend of the sun and the surf presents unparalleled bliss not to mention the ecstatic impact of the seafood and rum. Caribbean romance is however overrated. The destination is too expensive and not so tourist friendly. The calypso at times gives lovers a disgusting feeling.
9) The Pyramids of Egypt:
The land of the Pharaohs is an enigma till date and for sure is a major attraction for lovers seeking a quaint romantic corner far away from the maddening crowd. Egypt with its enchanting pyramids standing amid the whispering past is highly romantic but much hyped as well. The romantic spots are crowded with unscrupulous touts, and the local crowd isn't very civilized either.
10) Sydney Opera House:
Once this iconic landmark had been a lover's refuge amid a wonderful blend of solitude and scenic beauty, but its fame as a romantic site has been over hyped. The crowd grows in size every year bringing in more and more pollution and noise additions.