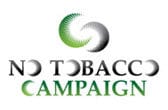 No Tobacco Campaign II – An Initiative
Archived Website. Some Links might not work as this is archived site.

Tobacco is the most preventable leading cause of premature death and diseases and is accountable for up to 5,000,000 deaths each year. Yet it is a growing threat, with more people falling prey to its deadly lure.
Novartis Consumer Health is rolling out No Tobacco Campaign 2010, 15th May – 11th August, a three month initiative in UAE to highlight issues of smoking and to implement a tobacco free nation. The event is executed by
ExHealth
.
The first phase of the campaign, 15th May to 31st May, will visit popular malls across AbuDhabi, Sharjah and Dubai in close interaction with mall visitors through campaign stands which will offer nicotine tests, free consultation with doctors, awareness skits and conduct a membership drive for people to sign up to quit smoking.
The second phase of the campaign 'You Can Do It' will run from 1st June to 11th August visiting corporate's and universities conducting awareness seminars about smoking, offering free nicotine tests and registering more people who want to quit smoking.