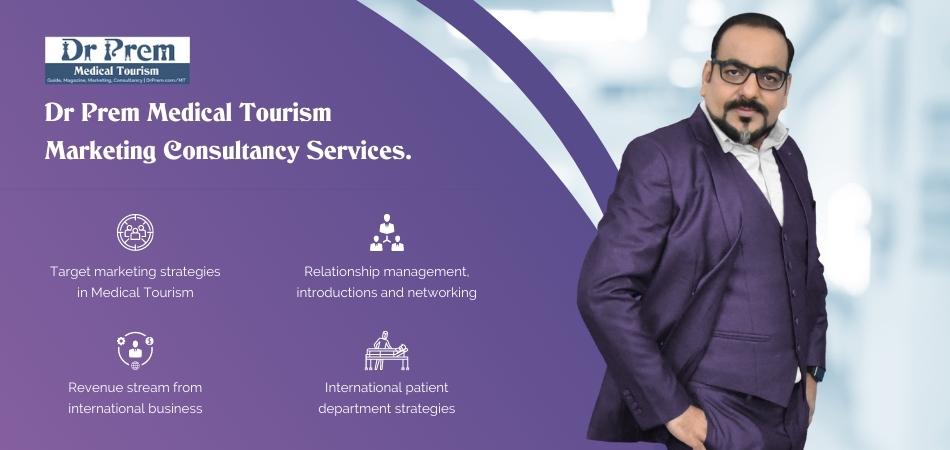 Technology has made it possible for the patient, irrespective of his geographical location, to interact with medical professionals and receive much needed health care on time. The trend often referred to as Telemedicine is becoming a rage among patients worldwide. In the last few years, Telemedicine has become integral in medical tourism procedure.
Telehealth is an advancement that is trying to find a place in medical tourism industry for the past decade. Telehealth has become a valued tool to boost medical tourism business. Let's take a look how what exactly telehealth means and how it matters for medical tourism.
In this medical tourism guide on Telemedicine, you will read about the following:
A Complete Guide on Telemedicine in Medical Tourism by Dr Prem Jagyasi- Definition, Features, Mode of Operation, Importance, Benefits, and Tips for Medical Tourists
What is Telemedicine?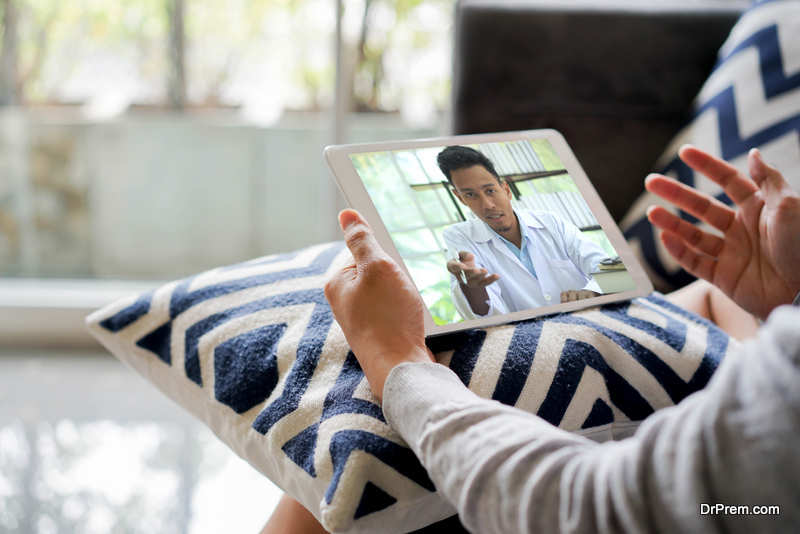 Formally defined, Telemedicine (also called Telehealth) is the ability to provide interactive healthcare support via modern technology and telecommunications. Besides eliminating distance barriers between the patient and the physician, it enables the patient to receive follow-up treatment without spending much money.
There is a lot of talking about telemedicine in medical tourism procedure guides, and it is really amazing how this innovative technology is helping with effective long-distance solutions.
Traveling to foreign destinations with better health services for treatment is still continuous, but telehealth addsmore facility. Telehealth or Telemedicine is any health-service or healthcare or related information delivered through telecommunication technologies.
It could be simple discussion between two professionals or a robotic surgery being delivered from one end of the world to other. Use of email by doctors to take follow-up, write prescription, diagnoses, and monitor patients remotely is also a part of telehealth.
Beyond the border virtual care
Of late, a lot of interest has been garnering around the concept of telemedicine which is purported to have the potential to boost medical tourism across the world substantially. While medical tourism refers to traveling to a foreign destination for treatment, telemedicine refers to delivering healthcare service via technology. This unique feature has brought in tremendous potential in medical tourism business.
Also called as Tele Health, it refers to the practice of offering healthcare services across countries and even continents via a telephone.Initiated about four decades back with demonstrations of hospitals extending care to patients in remote areas, the concept has firmly established itself among those in pursuit of medical care in foreign locations.
It has become an integral part of healthcare services worldwide and the reasons for that are not hard to comprehend. Many healthcare providers have integrated Telemedicine into the ongoing operations and specialty departments. Moreover, it is increasingly finding application with many home health agencies, private physician offices as well as consumer's homes and workplaces.
How telehealth services help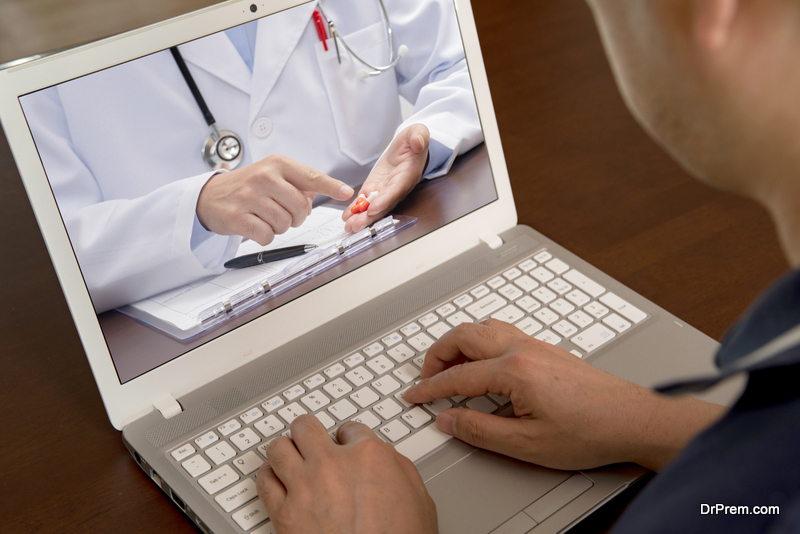 Here with more patients flowing in, telehealth services have a significant role to play.
They improve the quality of pre and post operative patient care.
They help monitoring the bottom-line information from remote ends. For example the anaesthologists can remotely carry out the physical evaluation of respiratory system through Tele consultation.
It covers a range of applications like transmittal of digital photographs and patient history for proper diagnosis and further consultation.
It enables remote follow up of physiological information to combat chronic diseases.
Using medical video endoscopes, it also helps   carrying out patient's physical examination.
It also enables establishing ultrasound over high-definition video conferencing connections.
Mode of operation
Telehealth services operate on two fundamental modes. They are:
Real time or synchronous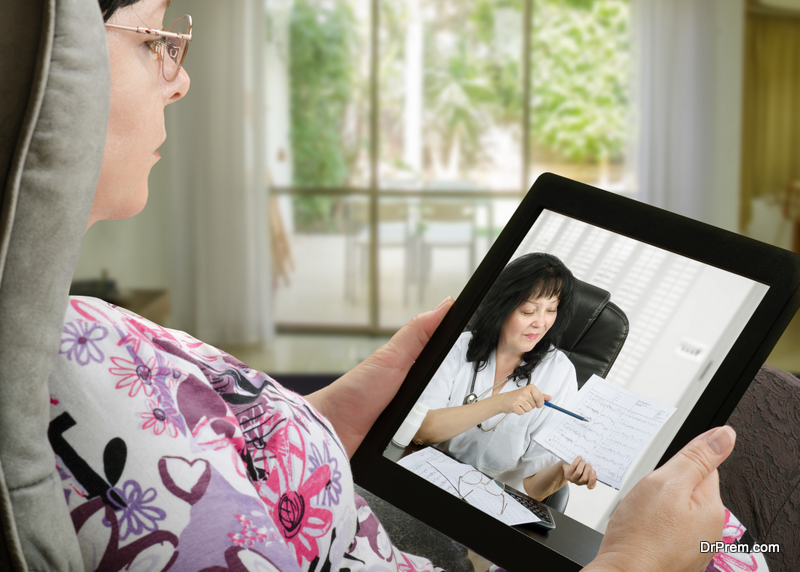 They are live and interactive and often use videoconferencing techniques. An attendant to the patient runs a specified telehealth aided device like a video auto scope to test your ear or an electronic stethoscope following the guidance of a remote consultant for performing a telehealth physical examination.
Deferred or non-synchronous 
In the deferred system, digital photographs and other health data are locally collected from the patient and stored for the time being for a transmission later. It is achieved either through a protected web server, encrypted mails or a specially designed store and forward software. The consultant then studies the stored data for diagnosis.
Added features in telehealth services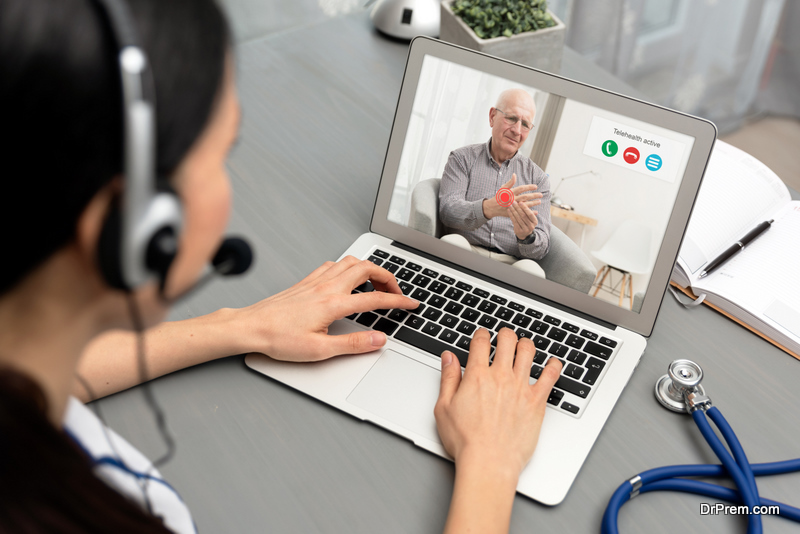 Currently, the modern videoconferencing terminals possess many added features and alternatives. Two channels can be transmitted and scanned at the same time like a digital slide together with a presenter.
Inbuilt multi point conferencing allows access to three or more sites without the requirement for an expensive device like multipoint conferencing unit.
Telehealth eventually provides the possibility to develop the quality of customer service offered to medical tourists. For example, a preoperative video conferencing would offer access to patients, his / her family and friends, surgeons and other members of the surgery team to virtually meet each other for discussion.
Why telemedicine is vital today in medical tourism?
Medical tourism businesses are aiming towards added patient convenience. Telemedicine has the potential to improve the level of care and service offered to a foreign patient. With medical tourism rising globally, it has become necessary for healthcare providers to offer innovative ways to lure customers to their facilities with convenient solutions.
Merely listing their services, recognitions and awards on their websites will not do. These providers will need to come up with ways in which the patient-doctor relationship is made stronger. Telemedicine can help achieve that. Apart from that, it can provide a whole list of other benefits for both the healthcare providers and the medical tourists who visit them.
Role of Telemedicine in Medical Tourism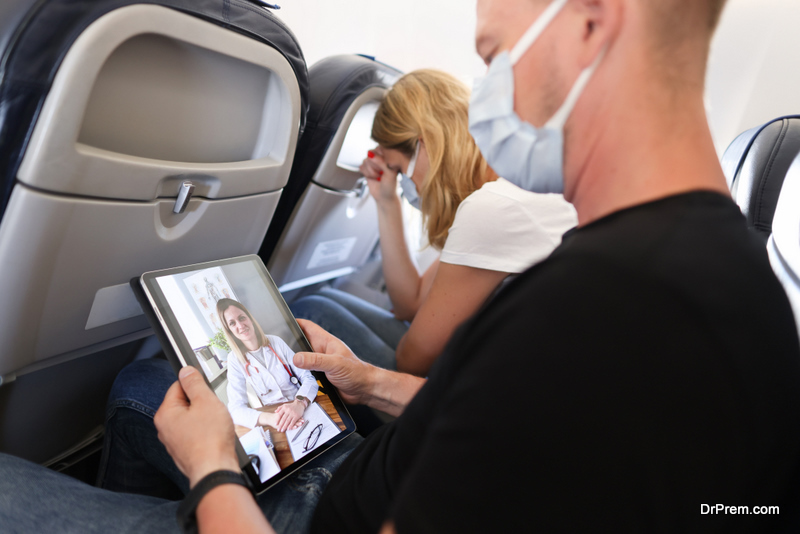 According to renowned medical tourism consultants, the role of telemedicine in medical tourism can be varied as follows:
Pre-and post-operative care
Telehealth has improved the process and quality of pre- and post-operative care. That means a patient doesn't need to visit hospital physically. Using a number of pre-operative telehealth applications, it is possible to collect baseline data remotely, to conduct pre-operative examinations along with imparting important information and education to patients. Similarly, telehealth can also help patients in post-operative care.
Today, a surgeon in any part of the world, given access to telehealth equipment can coordinate with patients for follow-up care either through a local primary care provider or specialist. With availability of this tool, patients can return home with virtual follow-up visits.
Effective Remote examination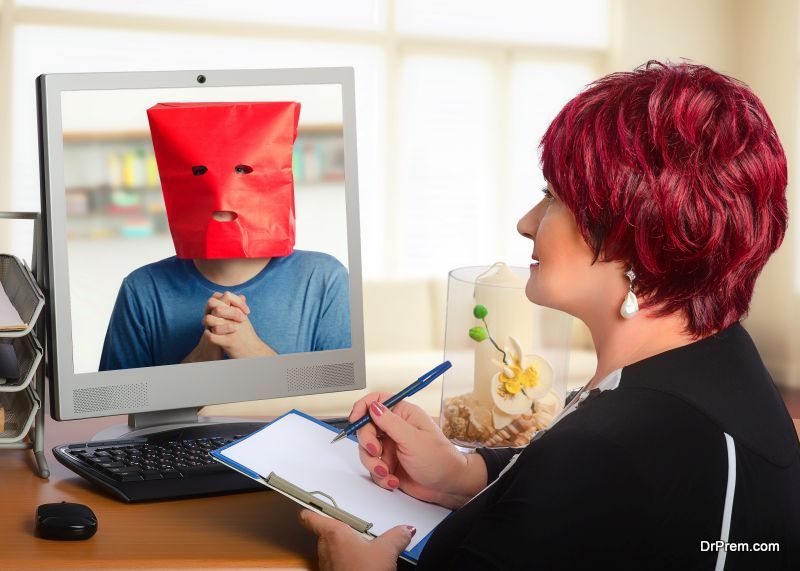 Another big role of telemedicine or telehealth services is the capability of remote examination through various peripherals connected with telehealth systems. For instance, some medical examination instruments, like video otoscope for the ear, dermascope or electronic stethoscope, bowel sounds etc. can be linked to digitizer or videoconferencing endpoint for remote examination. It can serve the basic medical tourism procedures before the patient takes the flight.
Similarly, ultrasounds for echocardiograms, obstetrical, gynecologic or abdominal evaluations, ocular imaging equipment, funds camera, slit lamp, optical coherence tomography and even endoscopes including a rhinolarngoscope, culposcope, and sigmoidscope etc. can function remotely through telehealth systems.
Remote health monitoring
As remote monitoring technology is going through gradual upgrades due to rapid advancements in technologies, it's becoming easier for health-related service providers to monitor patients regularly without asking them to visit hospital. It can reduce the length of hospital stays in the immediate postsurgical period.
Improved customer service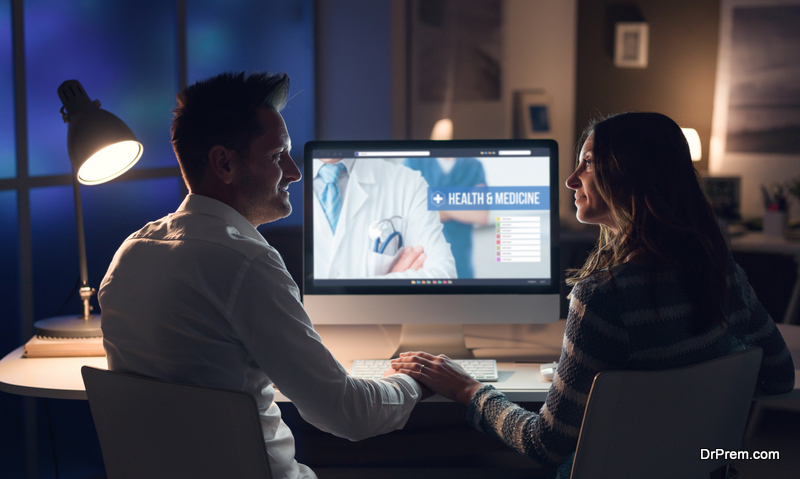 Telehealth or Telemedicine has emerged as an effective tool to improve level of customer service for medical tourists. Through videoconferencing, patients, surgeons, family members/caretakers, or any relevant member of health staff can virtually go for face-to face interaction. It not only breaks the communication barrier but also builds trust and confidence. Another example would be of those family members or friends who are far away from a patient and wanted to have real time communication sessions.
Although, telehealth offers tremendous facilities and advantages for medical tourism, it also remains debatable on some sensitive legal and ethical grounds. Every nation has different set of laws and standards of healthcare and that makes telehealth a complicated business. However, telehealth definitely looks promising with potential future prospects.
Delivering Proper Care instructions
Telemedicine is especially beneficial for potential medical tourists as it allows them to start receiving care instructions and directions from the physician who will eventually treat them. This helps in reducing any additional expenditure that would otherwise have been borne by the patient.Moreover, it reduces stress in patients, who would otherwise have traveled to another country much before their treatment began.
While the initial use of telemedicine was to provide healthcare services to patients living in remote regions of the world, where healthcare facilities were negligible, it is of utmost benefit to medical tourists, as they no longer have to wait for their arrival in the destination country for their treatment to begin. With telemedicine, potential medical tourists can get in touch with the physician in a distant country and start the pre-treatment medical tourism procedures right at their home.
Invaluable Insights: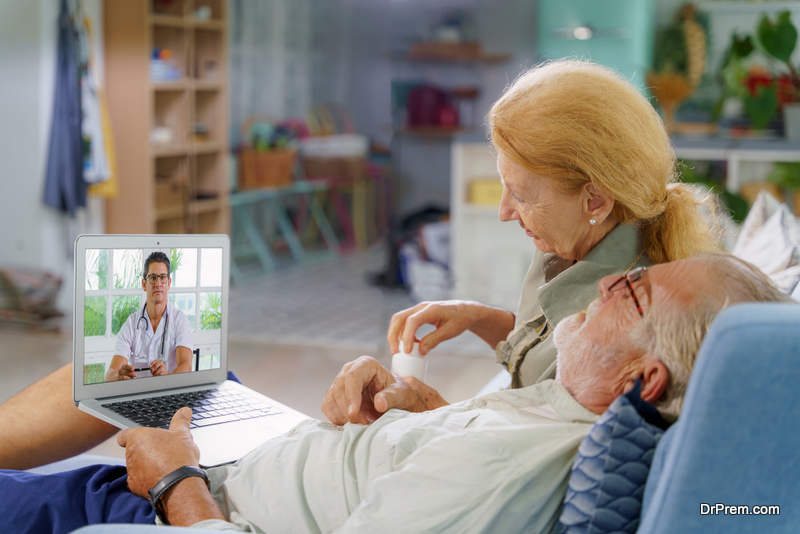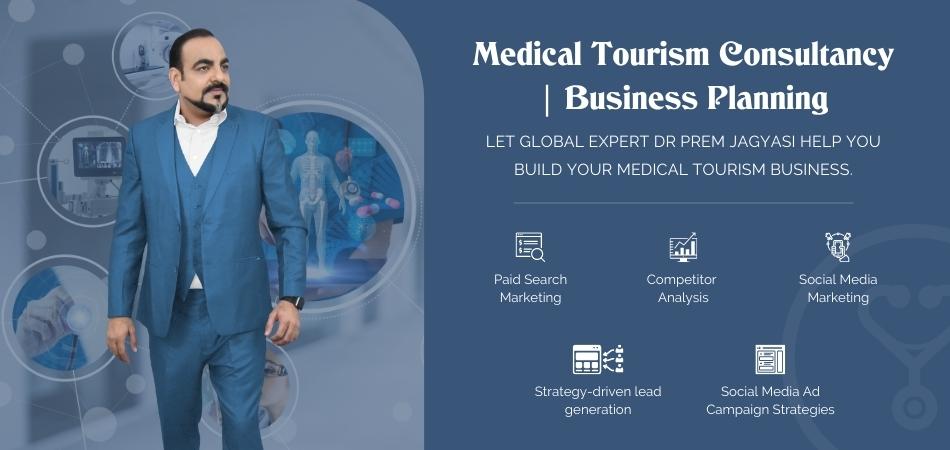 With telemedicine, excellent healthcare services are just a click away for potential medical tourists. You can easily access invaluable advice and information from the physician who will treat your disease, while still being at home. You can take all necessary precautions and gain valuable information about your disease and the treatment procedure much before actually arriving in another country as a medical tourist.
Moreover, you can easily share any new symptoms and get to know your own illness in a much better way, while remaining in constant touch with a physician. Since you would only be reaching your destination country after you have the date when your treatment will begin, it becomes important to remain in touch with the physician in the country where you are traveling to for treatment. With telemedicine, the physician will be in a better position to prepare you for the treatment.
Telemedicine is not a technology or a process in itself, but it encompasses all methods that bridge the geographical limitations and allows physicians to provide healthcare services from a distance.
Benefits of Telemedicine in medical tourism
Here are some of the more salient benefits of telemedicine one can enjoy by opting for it.
Reduces Unnecessary Traveling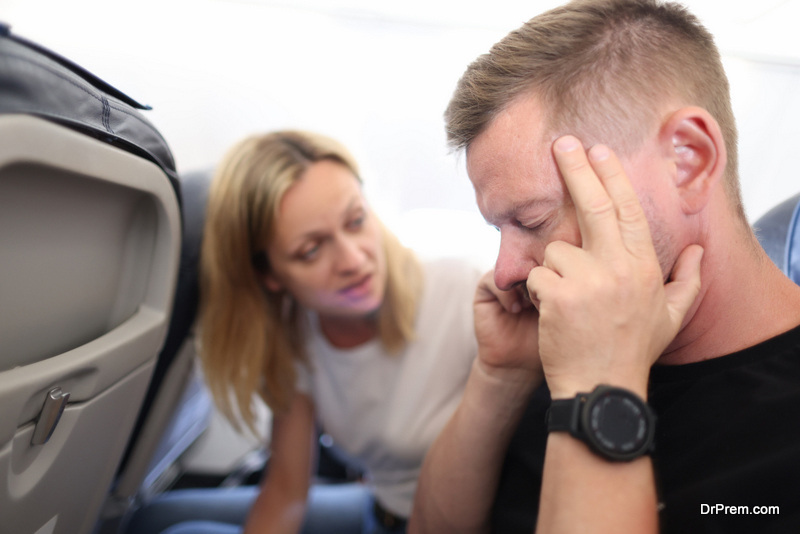 Two of the main reasons patients travel abroad for medical treatment is due to high healthcare costs or the non-availability of the same treatment back home. However, there are instances when a patient does not even need to travel abroad to seek treatment. Telemedicine can reduce these visits the costs related to the same by allowing the patient to seek expert guidance from a medical expert in another country via just a telephone.
Provides comprehensive consultation options
Telemedicine allows the patient to have a firsthand encounter with an expert with regard to the actual procedure to any other pre-procedural evaluations involved beforehand. Telemedicine will allow a patient to easily interact with foreign care providers across different countries before coming to a conclusion on where to travel for treatment.
Telemedicine will also offer a medical tourist the chance to experience a comprehensive remote consultation, i.e. a one on one consultation with the medical expert who will treat him/her upon arrival.
The physician on the other hand, can participate actively in clarifying any health issues or queries the patient may have before arriving at the destination for treatment. This, in turn, will make it easier for the patient to make a sound decision when it comes to choosing the best medical tourism destination for treatment. It will also allow him/her to be more relaxed before, during and after the treatment.
Provides Procedural Encounters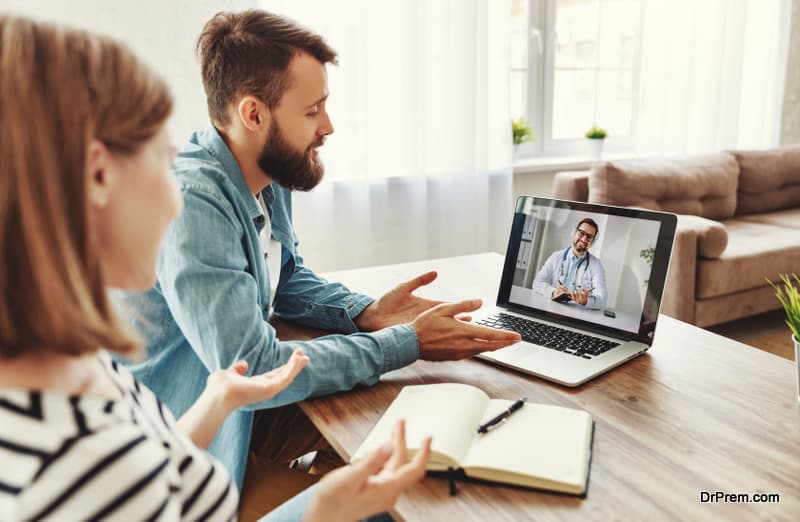 Telemedicine offers an opportunity for the primary physician attending the medical tourist to actively participate in all of the procedural encounters. These will include surgeries and post-operative care procedures as well.
This allows the physician to be an integral part of the entire healthcare process, a factor which will be favorable for the medical tourist who sees the primary physician as the first and most reliable contact upon reaching the destination. The same goes for follow up care where the medical tourist can get in touch with the foreign healthcare provider in order to devise a proper healthcare plan for a healthy future.
It has become absolutely necessary to retain customers, considering the wide array of choices available in medical facilities and destinations around the world. Healthcare providers need to offer a unique customer experience for patients rather than sticking to the same old handbook guidelines. Telemedicine can offer that level of uniqueness which will be successful in luring more patients to a specific healthcare facility or medical tourism destination. It provides a win-win situation for the patient who is delighted with the personalized attention, and the healthcare provider who gets to retain the customer and ends up getting more referrals in the process.
Reasons why medical tourism industry needs more telehealth initiatives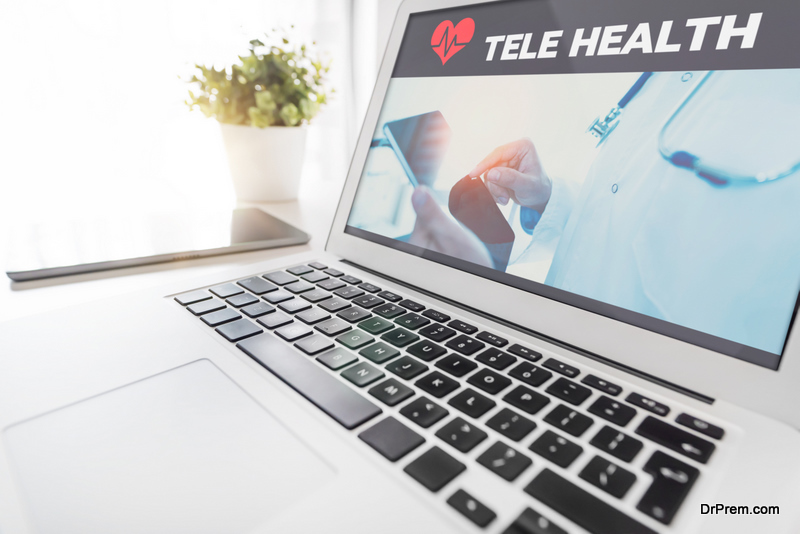 The introduction of telehealth initiatives had been a very significant strategic scheme for stakeholders to promote medical tourism across the globe.Applications like digital transfer of information about patient's medical history and reports to assess his/her health condition and the need for examinations have yielded successful consequences.Telehealth initiatives improve efficiency, customer care services and the quality of medical tourism services through heightened coordination of care between the patient and the clinics providing the service.
Adds convenience
The entire medical tourism procedure from the start to end is very complex, and the prevailing travel restrictions have added to its complexity. The prime reason why medical tourism industry needs more telemedicine initiatives is to make things smooth and convenient for patients.
Telemedicine can support a patient to that extent eliminating the need for taking strenuous travel. 
Timely medical attention in crisis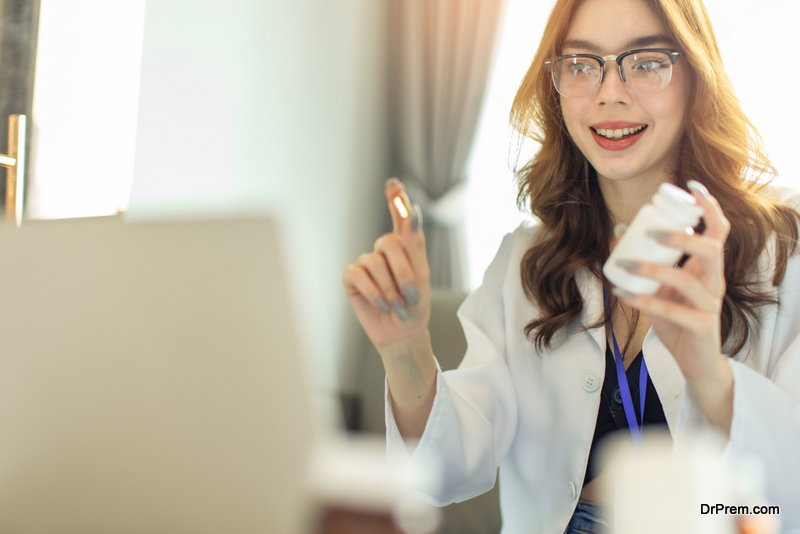 Imagine the plight of patients when a sudden lockdown was announced and the travel industry became standstill.  Hospitals and facilities with already existent telemedicine systems could promptly reach out to beyond the border patients scheduled to travel for medical purposes with proper consultation and guidance to ensure best healthcare support to avert any possible deterioration. Even if the patient was unable to travel for quite some time, such consultations either helped them to maintain health stability or get reference of some other quality support nearby.
Builds trust and confidence
Any patient in a foreign land even if accompanied by friends and family is bound to be mentally shaken or apprehensive. Pre-travel telemedicine consultation helps in trust building boosting the patient's morale as well. Two or three one-to-one interactions can make patients feel that they are in safe hands. Renowned medical tourism experts, physicians, and surgeons feel telemedicine can be a game changer in tomorrow's medical tourism.
Help in fostering medical partnership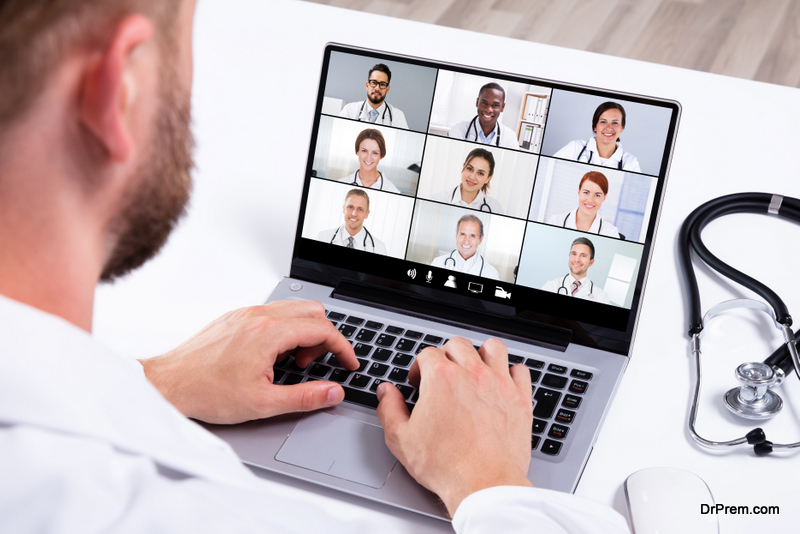 This can be very useful specially in destinations lacking quality specialist physicians and surgeons. Telemedicine can act as a bridge of knowledge sharing and training helping the underprivileged regions get access to right consultation and treatments. Strategic partnerships and collaborations can create the proper care ecosystem for patients unable to afford beyond the border travel for medical tourism.
Boosts medical tourism business
Medical tourism facilitators and agencies can also win the trust of patients through telemedicine interactions. Patients can open up freely and clearly state their needs and wants in face-to-face interaction even if it is virtual.
Medical Tourism Growth supporting Telehealth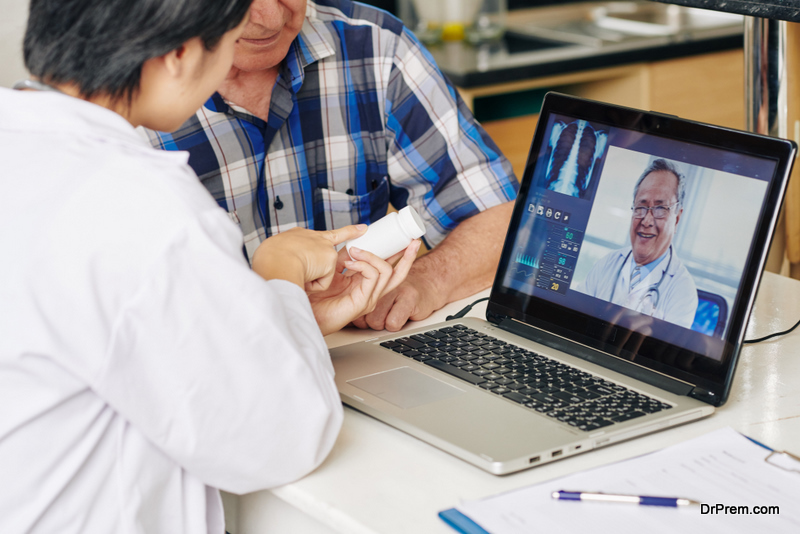 A survey carried out by Transparency Market Research group has revealed that the annual growth rate in the medical tourism market would register a figure of 17.90 % for a span of seven years from 2013 to 2019.Since there has been a rise in longevity rate due to advancement of health care facilities, the share of aged people in the global population mix has been on the rise too. This segment of aged population is however vulnerable to health disorders. They, along with the uninsured population suffering from various illnesses have been propelling the wheels of medical tourism industry.
Telehealth initiatives to improve efficiency and quality of medical tourism:
The salient feature of the medical tourism industry is its potential to offer high quality health care services at a reasonably lower cost. Telehealth initiatives are seen as an answer to this issue.  Customers typically desire to have a closer access to surgeons and other health care specialists and providers abroad.
Telehealth with its advanced technology makes it possible without the patient having to travel over long distances and confront stress and long waiting time. The electronic media of communication brings his dreams see the light of the day faster. In spite of market challenges, the growth prospects of telehealth services are quite high. Initiators to this modern and technology-based service are optimistic enough about its future.
Challenges and implications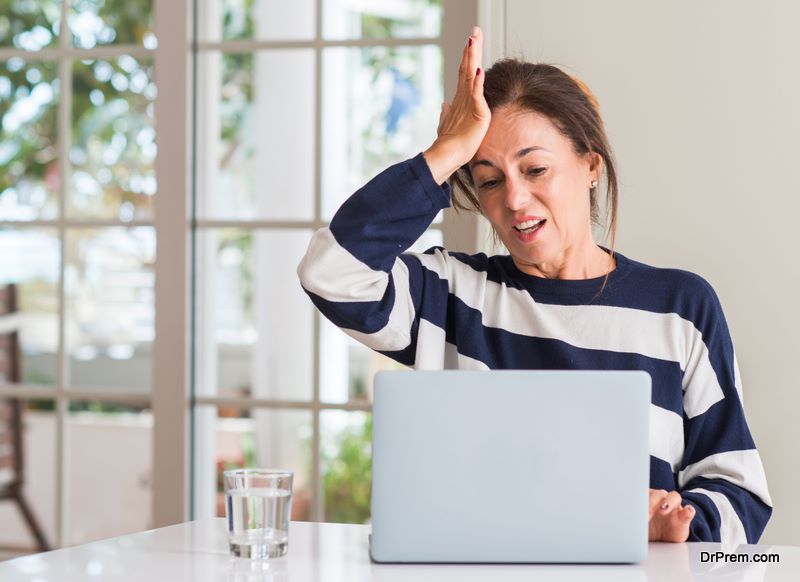 Telemedicine in medical tourism has its own share of challenges. Cost regulation of telehealth services is an important factor that needs to be framed properly. Sometimes, overhype creates false promises about wonderful applications which either do not exist at all or are too expensive.
Innovative telehealth services are always not welcomed by healthcare providers who apprehend growth of too many competitors in the market. Advanced systems and solutions have a remarkable impact on medical tourism procedures provided they are marketed and used properly. There are increased chances of fraud and malpractice in the absence of proper regulation.
Many patients are not tech savvy and may not feel comfortable with telemedicine services. A stable and good quality network is also not easily available in underprivileged nations. If medical tourism businesses, agencies, and facilities want to offer telemedicine services, they must be aware of the customers' usability capacity.
How a medical tourist can avail Telemedicine in the best manner
A medical tourist should learn more about the healthcare structure of your destination country and the kind of facilities that they have. Carefully analyze patient testimonials of the facility and learn about the education of the physicians.
Start communication as early as possible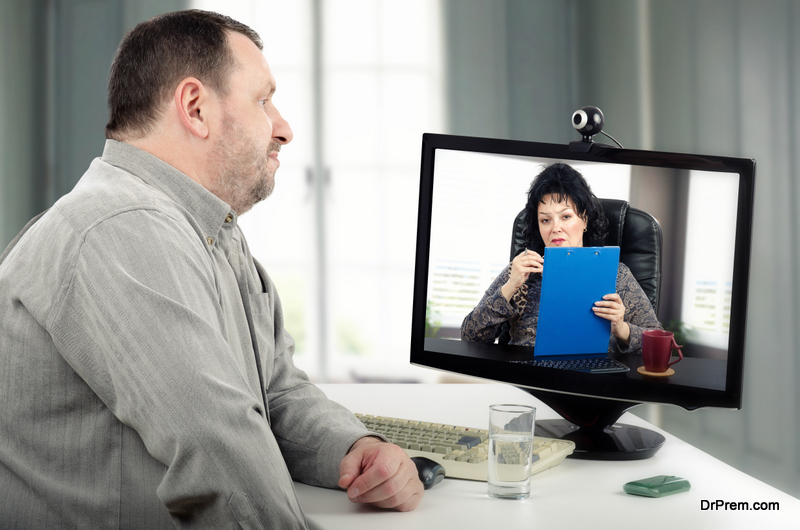 After you have chosen a destination and a hospital/clinic within the region, you should immediately start communication. Usually, every reputed healthcare facility that caters to medical tourists has an international patient department to facilitate communication. Find the contact details of the department and immediately get in touch with them. Approach this department, and ask for details. As the communication progresses, you might have to send them your diagnostic reports, and receive brochures, details, and documents from them.
Different countries have different laws pertaining to medical tourists and it becomes essential for you to have complete knowledge about these laws. Carefully read the consent form, which is a legal document that provides vital information about the hospital and the procedure. Further, ask the department about the physician who will perform the procedure. Get to know as much about the physician as possible and reassure yourself that the physician is duly licensed to perform the procedure.
Communication is a clear path to treatment status
If possible, speak with the physician and understand the possible complications associated with the procedure, and how well the facility is prepared for an unexpected hospital stay. While many facilities offer onsite hospitality and would not refer you to another facility for an extended stay, it is best to know the answers beforehand. If you are currently on medication, be sure to share these details with the treating physician, you might also want to ensure the availability of such medicines in the destination country. If not, get the names of the medication they will provide you, and verify these with the physician in your local country.
Have a list of all the medications that you will have to take prior to and after the treatment. Make sure that they are safe and are of the same, if not better, standard as the medications available in your country. Get in touch with your healthcare insurance provider to ensure that they will cover and reimburse the healthcare expenses that you will have to bear in the destination country.
Take advantage of telemedicine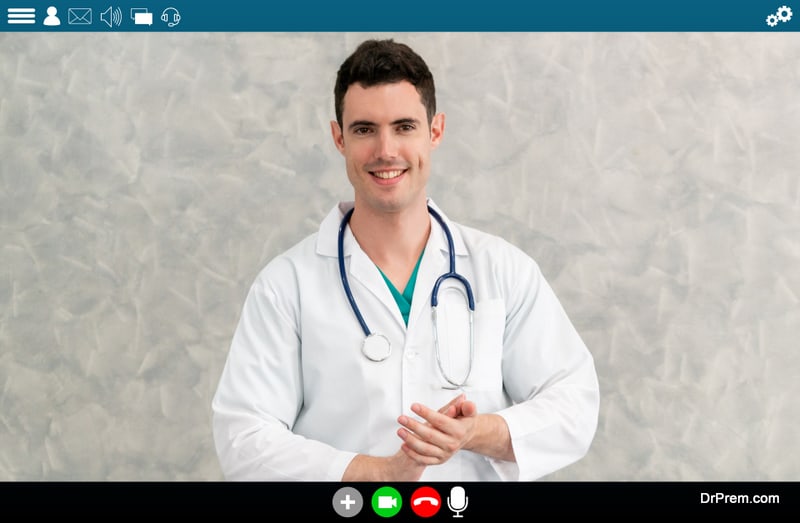 This helps remove the distance barriers between the patient and the physician while improving access to medical services.Since you would only be reaching your destination country after you have the date when your treatment will begin, it is important to remain in touch with the physician in your choice of medical tourism destination. With telemedicine, the physician will be in a better position to prepare you for the treatment.
Telemedicine is not a technology or a process in itself, but it encompasses all methods that bridge the geographical limitations and allows physicians to provide healthcare services from a distance. Telemedicine is especially beneficial for potential medical tourists as it allows them to start receiving care instructions and directions from the physician who will eventually treat them.
This helps in reducing any additional expenditure that would otherwise have been borne by the patient. Communicating with the physician helps reduce stress in patients, who would otherwise travel to another country much before their treatment began.
The initial use of telemedicine was to provide healthcare services to patients living in remote regions of the world where healthcare facilities were negligible. It has found itself to be of utmost use to medical tourists, as they no longer have to wait for their arrival in the destination country for their treatment to begin.
Know about the basic requirements
To avail telemedicine facilities, you will need a desktop or a good android phone, earphones, or headset and a stable network system. Ask your provider if they run any additional software for telemedicine. You may have to install it before attending the consultation.
In the future, telemedicine can help drive the cost of medical tourism down for patients as they would only need to travel when they need to get procedures done. For every other aspect of pre- and post- operative care, they can use telemedicine. This could boost medical travel for relatively smaller procedures like dentistry where a patient ends up spending more on travelling for post operative care to a MT destination than on the procedure itself.