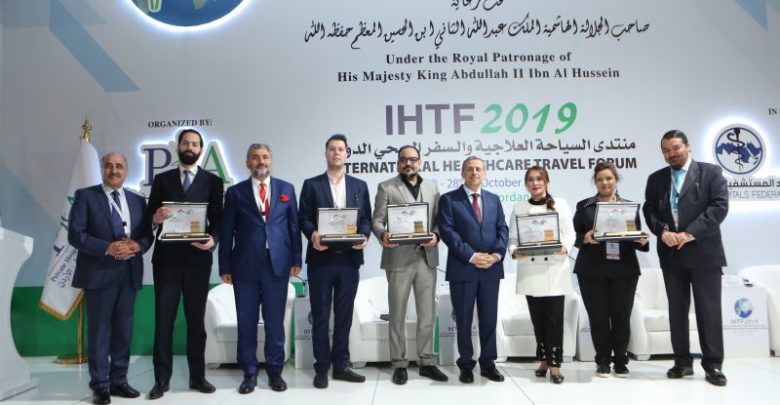 International Healthcare Travel Forum (IHTF)' 2019, one of the largest forums focused on healthcare travel in the MENA region was staged in Jordan from 26th -28th October; a meticulously organized event, unparalleled in all respects. Renowned speaker, Dr. Prem Jagyasi was invited to deliver the keynote speech of this event. His insightful words on the future of global healthcare and presentations received huge applause.
It was one of the best healthcare tourism conferences that saw the presence of over one thousand participants from 45 plus countries. Globally renowned speakers and dignified guests graced the forum, the prime minister of Jordan being the most notable of them. High profile medical tourism meets and conferences are common nowadays given the promising prospects of the industry worldwide, but rarely one gets to see a prime minister taking so much interest in it.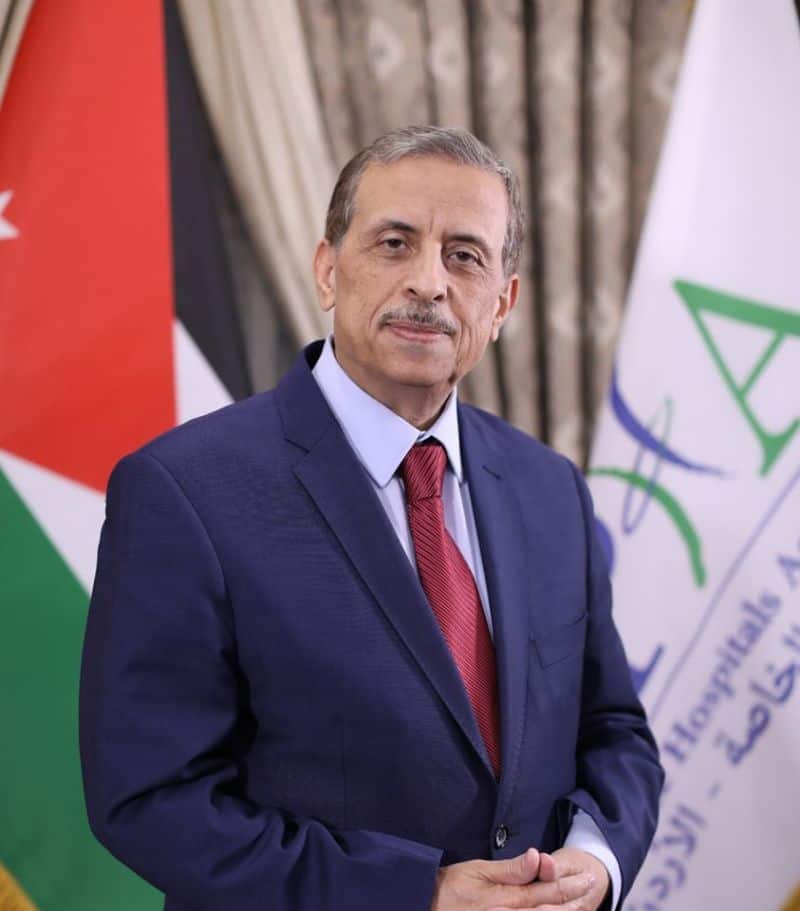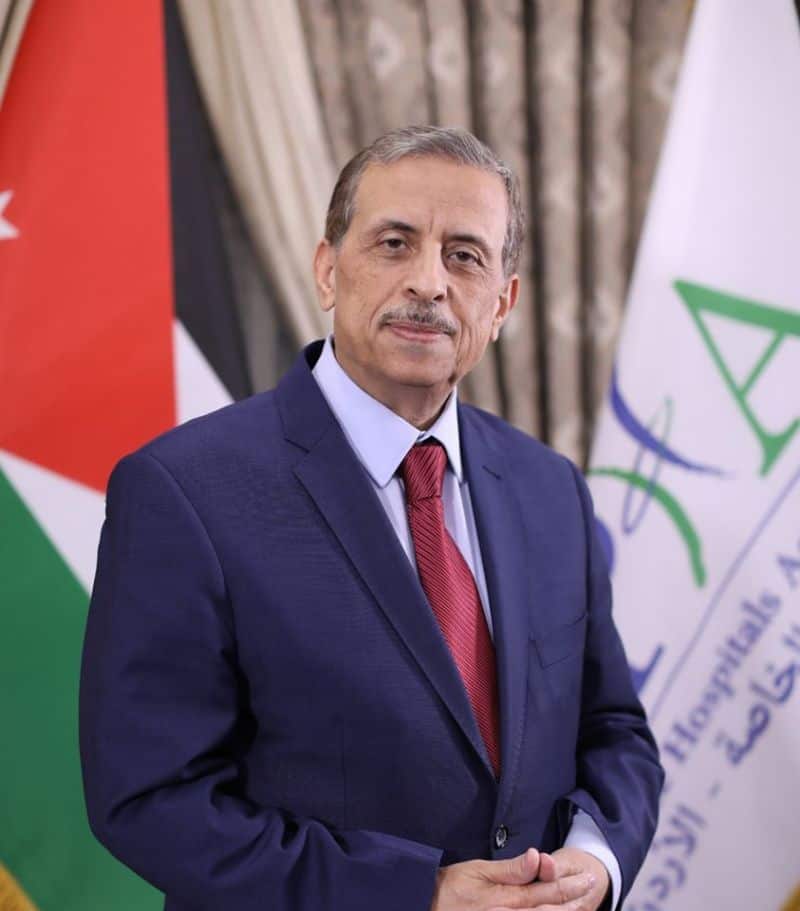 No doubt, his presence elevated the status of the conference. Much of the credit for IHTF's success goes to Dr. Fawzi Al –Hammouri, the Chairman of PHA whose relentless efforts backed by a well-coordinated team are pushing up the healthcare tourism growth curve. With more than two decades of experience in healthcare and holding an envious success record as a leader in Specialty Hospitality and healthcare, he is the face of Healthcare Tourism in Jordan.
Healthcare tourism in Jordan: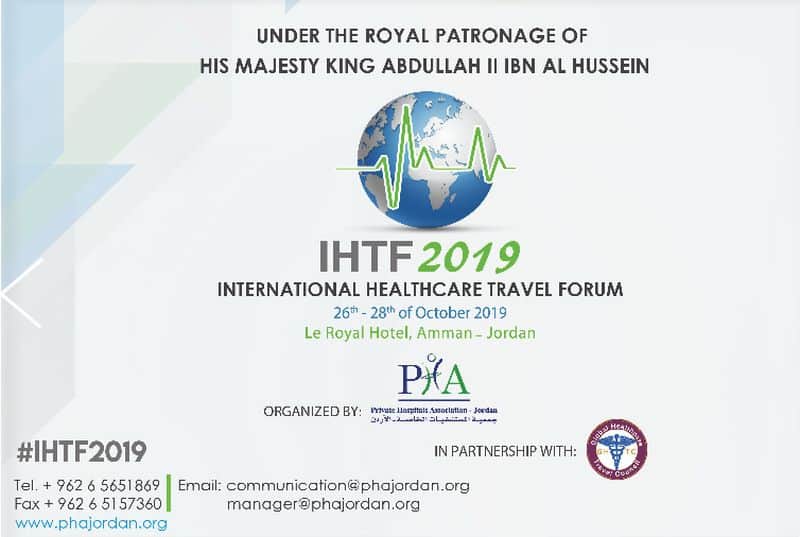 Quality is the baseline of Jordan's healthcare. This is the reason Jordan continues to enjoy a high ranking in healthcare tourism generating nearly $1.2 billion in revenue annually contributing 3.7% to the country's GDP. Mostly, a health tourist is never a solo traveler but is accompanied by family or friends. Travelers from 62 countries visit Jordan to avail exceptional healthcare support at incredibly low prices.
For every 1 patient getting treatment in the in-patient setting, nearly 3 patients are treated in the out-patient setting. Jordan is looking to diversify its products and services in Wellness and Spa by capitalizing its inherent resources especially the Dead Sea. The IHTF' 19 rightly supports the mission and vision of Jordan's healthcare tourism.
IHTF' 19 – The Agenda: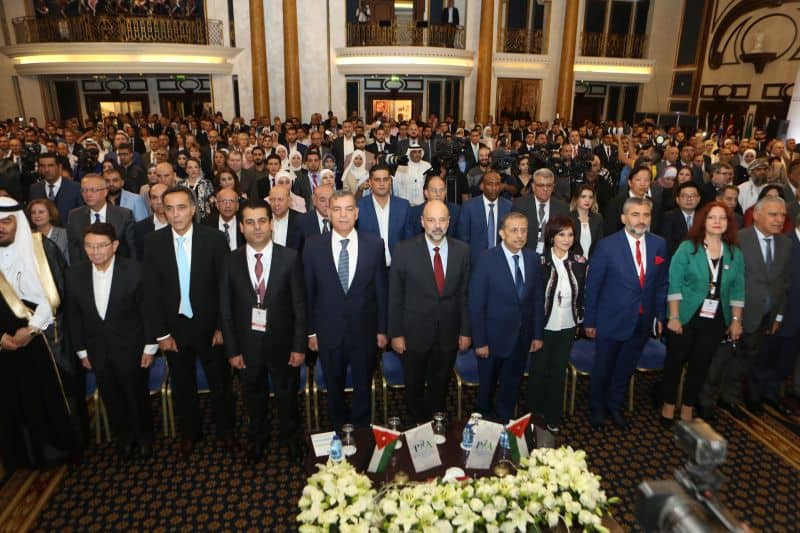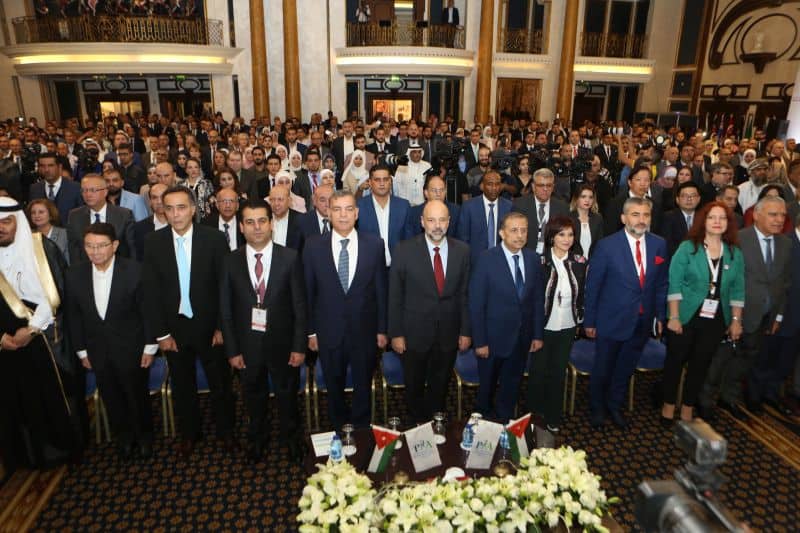 Organized by the PHA (Private Hospital Association) in collaboration with Global Healthcare Travel Council (GHTC) and Arab Hospital Federation under the Royal Patronage of His Majesty King Abdullah II Ibn Al Hussein, it was a highly interactive platform for global healthcare stakeholders to share, network and strengthen cooperation among different countries willing to develop medical tourism markets.
The forum also aimed at gathering decision-makers in global healthcare whose insights are valuable in market expansion and diversification. The huge participation of international healthcare professionals, representatives from healthcare institutions, government officials, insurance companies, medical companies, medical tourism facilitators, travel companies and spa and wellness service providers reflected the importance of this forum.
The Meet: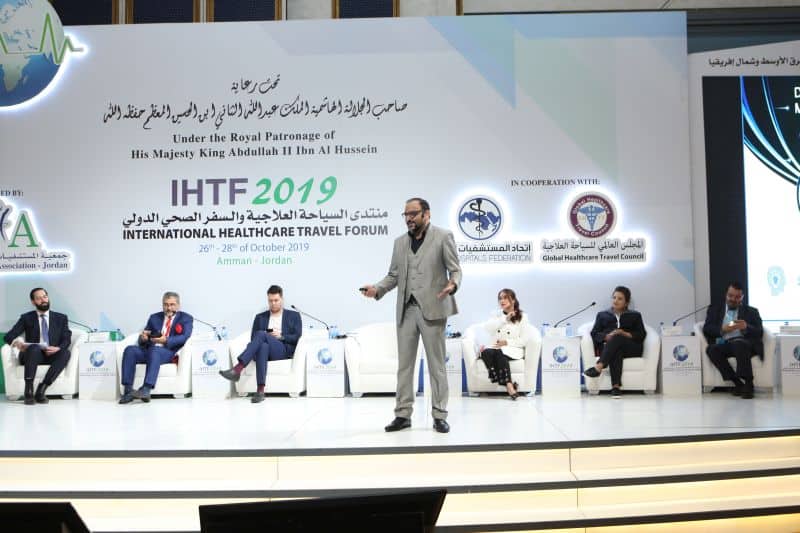 The galaxy of speakers present in the meet said all about IHTF's significance in the global medical tourism sector. Some of the notable speakers who graced the occasion are:
Prem Jagyasi CEO – Dr. Prem and Associates, India
E. Dr. Saad Jaber, Minister of Health, Jordan
E. Majd Shweikeh, Minister of Tourism & Antiquities Jordan
E. Jumana Ghunaimat, Minister for Media Affairs Jordan
E. Dr. Taleb AlRefai, X-Secretary General of UNWTO, Jordan
Laila Al Jassmi Founder & CEO Health Beyond Borders Dubai
Joyce Sacao President & CEO, HealthCore Philippines
Emin ÇAKMAK,Founding Chairman THTC, Founding Chairman GHTC Turkey
Abed Al Razzaq Arabiyat, Managing Director of Jordan Tourism Board Jordan
Asem Mansour CEO & Director General of King Hussein Cancer Center
Jordan
Lutz Lungwitz, President of German Medical Wellness Association Vice-president GHTC, Germany
Omar Shalabi Occupational Health John's Hopkins Aramco Healthcare, Saudi Arabia
Violetta Yanyshevskaya, Ukrainian Association of Medical Tourism, GHTC President, Ukraine
Nisreen Qatamish Director General, King Hussein Cancer Foundation Jordan
Ammar Abu Suboh General Manager, Islamic Hospital, Jordan
Salma Jaouni, CEO of the Health Care Accreditation Council Jordan
Stefano Urbani Founder & CEO Turismo Medico Italia Italy
Zuhair Bisharat Dermatologist Dead Sea Spa Director Jordan
Ruba Musharbash Dr. of Nutrition and Dietetics Jordan
Alice Yammine Boueiz Chief Executive Officer Arab Hospitals Federation Lebanon
The forum kicked off on 26th October morning with the opening ceremony led by Dr. Fawzi Al- Hammouri, the PHA Chairman. This was followed by a ministerial summit themed on the Expansion of Healthcare Travel. The ministerial-level of participation in this summit was remarkable. It showed the government's keenness to take Jordan medical tourism ahead which is crucial for this sector.
Organizing such a grand conference and attending a host of dignified guests demands extremely meticulous planning, thanks to Dr. Fawzi whose tremendous efforts made guests comfortable. He walked miles to provide the desired comfort and convenience to everybody present; guests could not find enough words of gratification!
The exhaustive list of speakers was attention-grabbing that spoke a lot on the significance of this meet as well as the destination itself. Jordon went all out to promote its healthcare tourism market. All speakers and professionals have already made a mark in respective fields. Naturally, their words and presentations from different perspectives rose interest among the audience.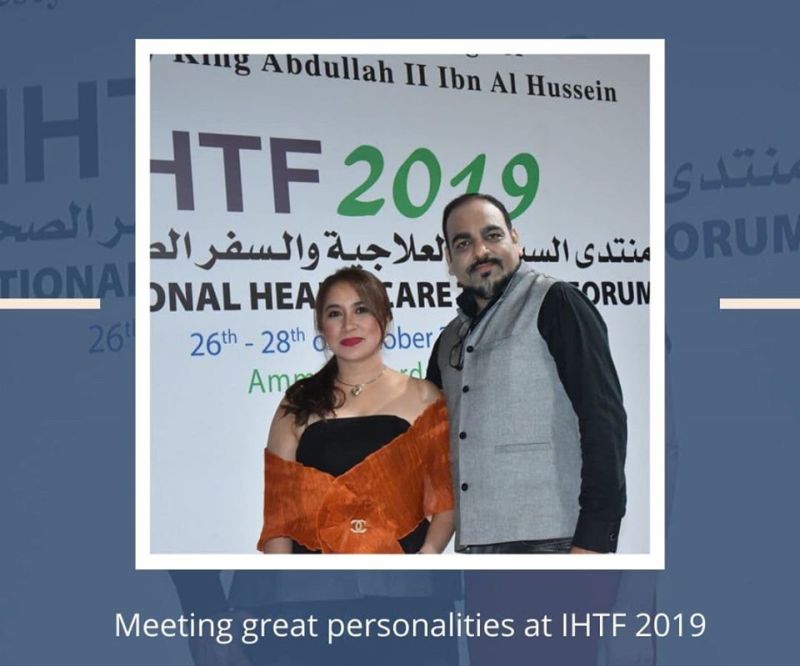 The most fascinating part of IHTF is that apart from showcasing Jordan's healthcare excellence and its potential it paid more attention to other factors crucial for the sustainability of this market. Jordan has several reputed institutions credited to have achieved notable breakthroughs in critical treatments. The King Hussein Medical Center is the first in the Arab region to do a kidney transplant in 1973. It is also the first institution to do cardiac transplant in 1985.
The King Hussein Cancer Center is one of the best cancer centers in the world ranked 6th by the World Bank and the only center to have received JCI Clinical Care Program Certificate outside the US. The newly built Abdali Medical Center is another prime facility promising continuum care and services under one roof.
Apart from this, Jordon is also the first in the region to successfully perform laparoscopic surgery, liver and bone marrow transplant and IVF treatments. It is successfully managing infection control, a growing concern in medical tourism. Already having a proven track record in healthcare quality management, it is natural that these areas will be much discussed in IHTF'19. There is no end to improve on these areas, more you do more you benefit and so the patients. It is the patient-centric approach that has made this country a star in Arab healthcare tourism.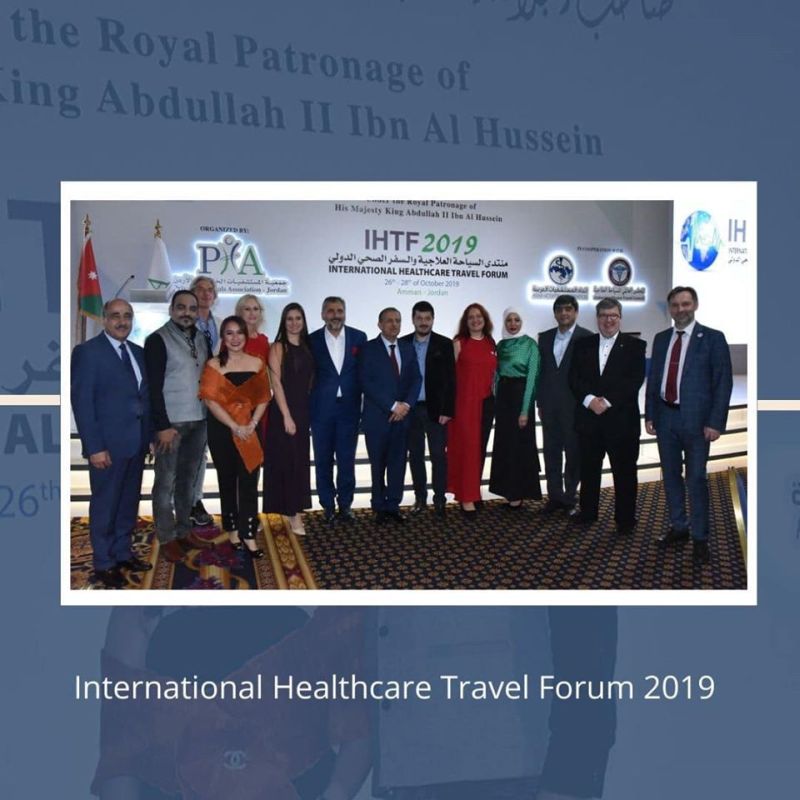 Therefore, subsequent sessions saw intensive discussions on upholding quality, legislations and regulation, accreditation, malpractice law, operation efficiency and patient experience. Among all, Mr. Emin Cakmak's speech and presentation on how legislation and regulations have boosted Turkey's medical tourism growth was highly absorbing. Such examples are worth following.
Medical tourism growth not only rests on quality and affordability but a lot more on these factors. It is educative for all – the established destinations and the emerging ones and of course the stakeholders shouldering the responsibility of care delivery.
Healthcare Tourism Exhibition: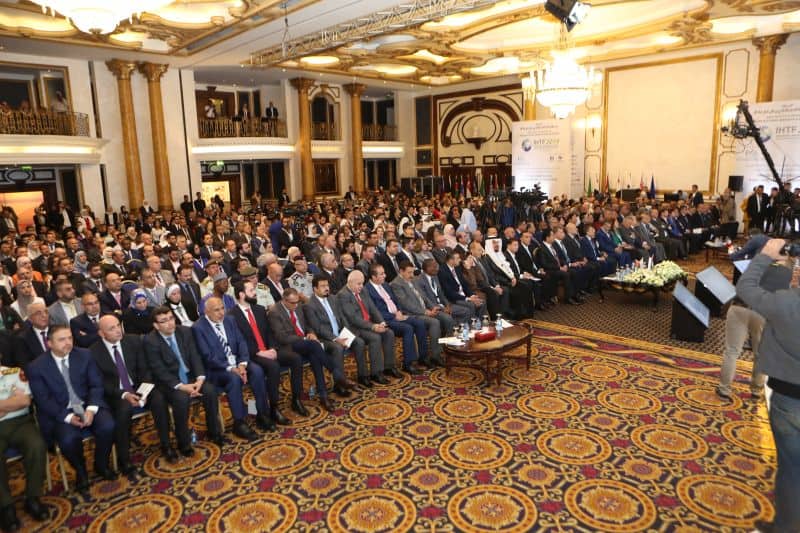 The exhibition's theme went well with the IHTF agenda. Stakeholders of healthcare tourism got the opportunity to showcase their products and services as well as grow their networking channels. The Prime Minister was a special guest of this exhibition. He took interest in the exhibition that reflected government's intention to take healthcare tourism in Jordan to the next level. Active participation from both the government and private hospitals have steered Jordan's medical tourism.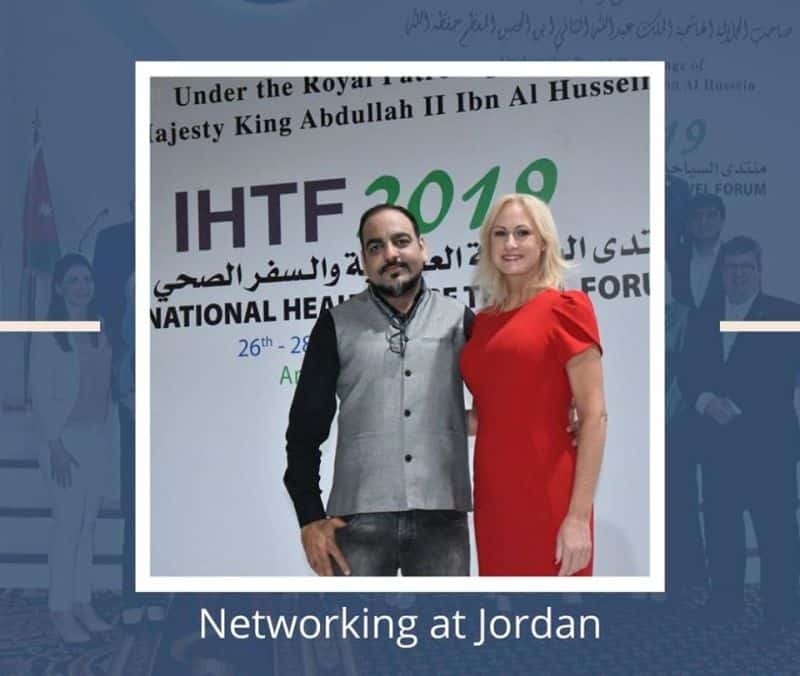 A great attendance of legitimate buyers engaged in networking, experience-sharing creating scope for education and promotion was worth following. Participants got the opportunity to build knowledge and information from enriching speeches and presentations of experts, professionals and academic persons.
Healthcare beyond the walls – Dr. Prem's take on future of global healthcare: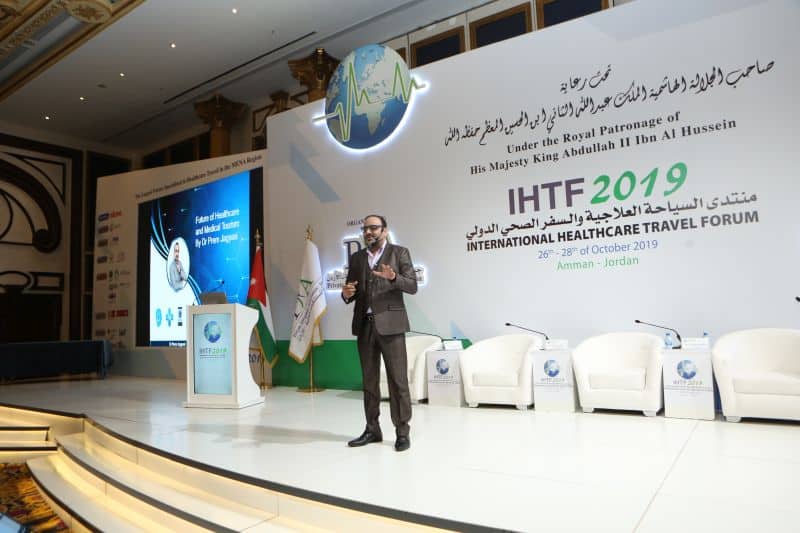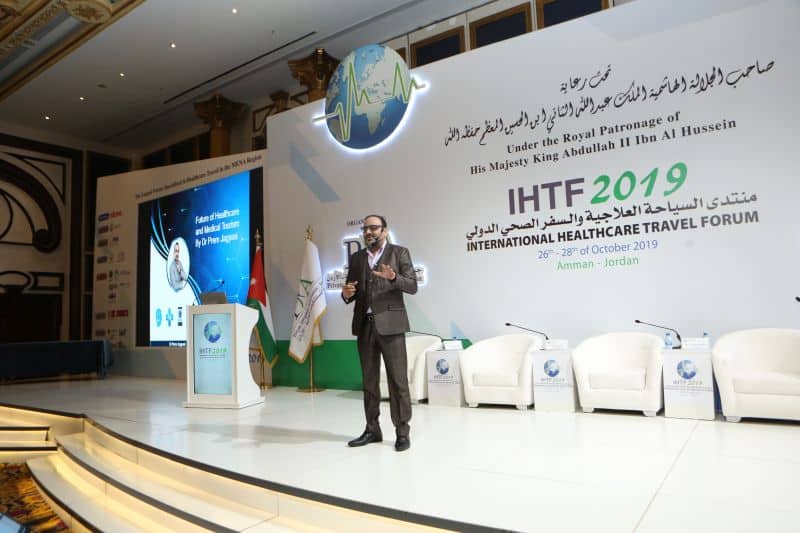 Dr. Prem was spot on when he talked about the future of global healthcare. Tech advancements and treatment breakthroughs are fast-changing healthcare delivery. What we are experiencing today will be entirely different tomorrow. Healthcare assistance and treatment would be mostly data-driven. The medical tourism industry needs to fast align with this. He sent out a clear message while pinpointing emerging trends in his keynote speech.
His speech highlighted the rapid emergence of artificial intelligence, AR/VR, Mobile health apps, IoT (Internet of Things) or IoMT, wearable, genomics, regenerative medicine, 3-D printing technology, regenerative medicine, personalized medicine, Block chain technology, remote health monitoring through telehealth services and all that are set to revolutionize healthcare.
Increased internet penetration has empowered patients in educating and allowing informed decision making in healthcare. He emphasized patient empowerment will have a big role in future medical tourism. The focus will be more on evidence-based outcomes and preventative solutions. Facilitators and providers, therefore, need to bring in innovation in care delivery.
Data security and privacy are gaining importance in healthcare. With further digitization, this would have even bigger implication on global medical tourism where chances of data pilferage are quite high.
With the experience of delivering speeches in prestigious global healthcare conferences, Dr. Prem's knowledge in the latest healthcare trends is unmatched. The audience sensed it well and their response was fantastic.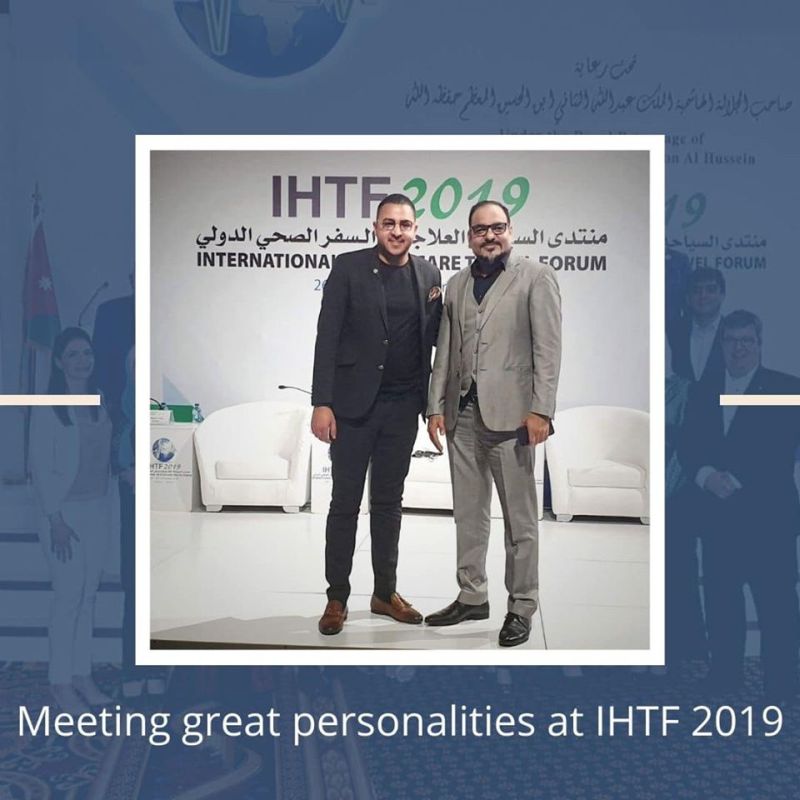 On day 2 of the meet, Dr. Prem shared his thoughts and views on developing Sustainable Healthcare Marketing and Branding Strategies for Global Outreach in the Healthcare Marketing and Branding session. In the panel discussion, he was joined by Dr. Abdul Razaq Arabiyat, Managing Director, Jordan Tourism Board (JTB), Jordan, H.E. Prof. Tawfik Al-Khoja, Secretary General of Arab Hospitals Federation, Saudi Arabia, Ms. Joyce Sacao -President & CEO, HealthCore, Philippines, Mrs. Vidya Rani, Business Development Manager – Medical Tourism Pink Stone Travel & Tourism, Oman.
Implementation of the Amman Declaration: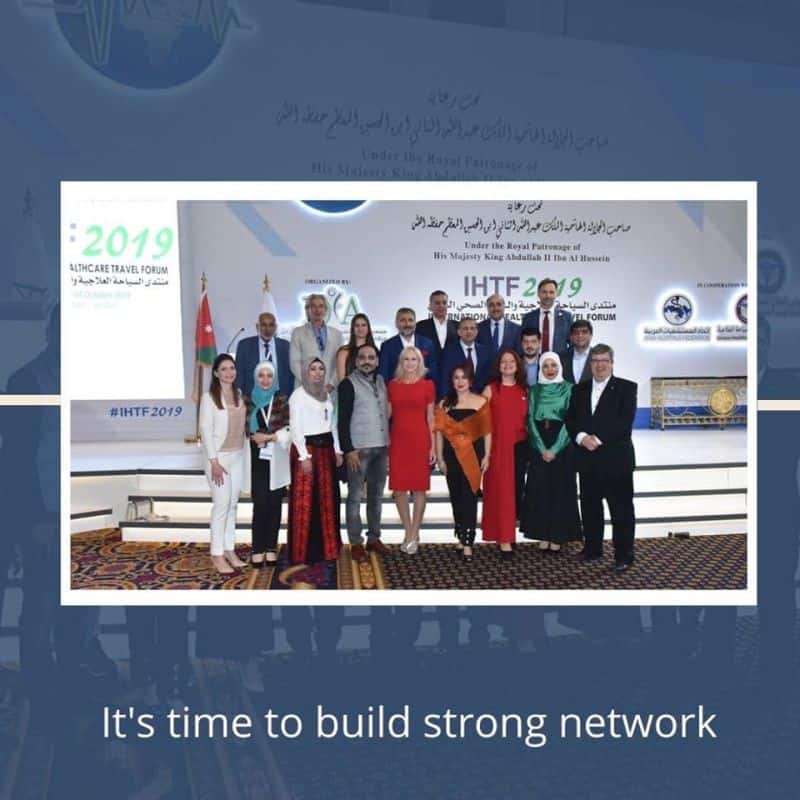 Jordan is also looking to build on other important sectors of healthcare tourism besides conventional medical assistance and care. The Amman Declaration which was taken up as an important feature in GHTC'17 meet in Jordan received due attention. It aims to integrate 8 healthcare travel segments namely Dental Tourism, Therapeutic Spa Tourism focusing on the curative properties of the Dead Sea, Wellness Tourism, Culinary Tourism, Sports Tourism, Accessible Tourism and Assisted Residential Tourism. The Jordan Tourism Board is also looking to promote Jordan as a prominent Health and Wellness Tourism Destination.
IHTF' 19 has further set the ball of healthcare tourism Jordan rolling. Here are the glimpses of GHTC'17 giving insights into the growing market of Jordan's healthcare tourism.
GHTC 2017
Image Source : Elitour.Org
Sincere effort to boost the medical tourism sector of Jordan was truly felt in the recently concluded Global Healthcare Travel Forum held in Amman, Jordan. It was the first GHTC (Global Healthcare Travel Council) meet in the country held in association with PHA (Private Hospitals Association), Jordan under the auspices of His Majesty King Abdullah II Ibn Al—Hussain.
It was a well organized meet that deserves special praise with the events planned sequentially as per relevance bringing out its true essence. The opening speech delivered by Dr. Fawzi Al Hammouri, PHA Chairman and GHTC President stressed the significance of the fast-growing medical tourism sector foreseeing the country's further growth prospects in this domain.
Jordan sees an annual visit of 3, 00,000 medical travelers. The country takes pride in providing state-of-the-art medical facilities run by a team of highly educated and experienced specialists who have undergone extensive training in the US.
The contribution of PHA in building the Jordan's healthcare service at par with international standards deserves special mention. It is continuously striving in elevating the standards of the Jordanian Hospitals and is running neck to neck with the top hospitals of the US and UK .In 2014, Jordan was declared as the leader of medical tourism by World Bank in the Arab region and ranked 5th in the world.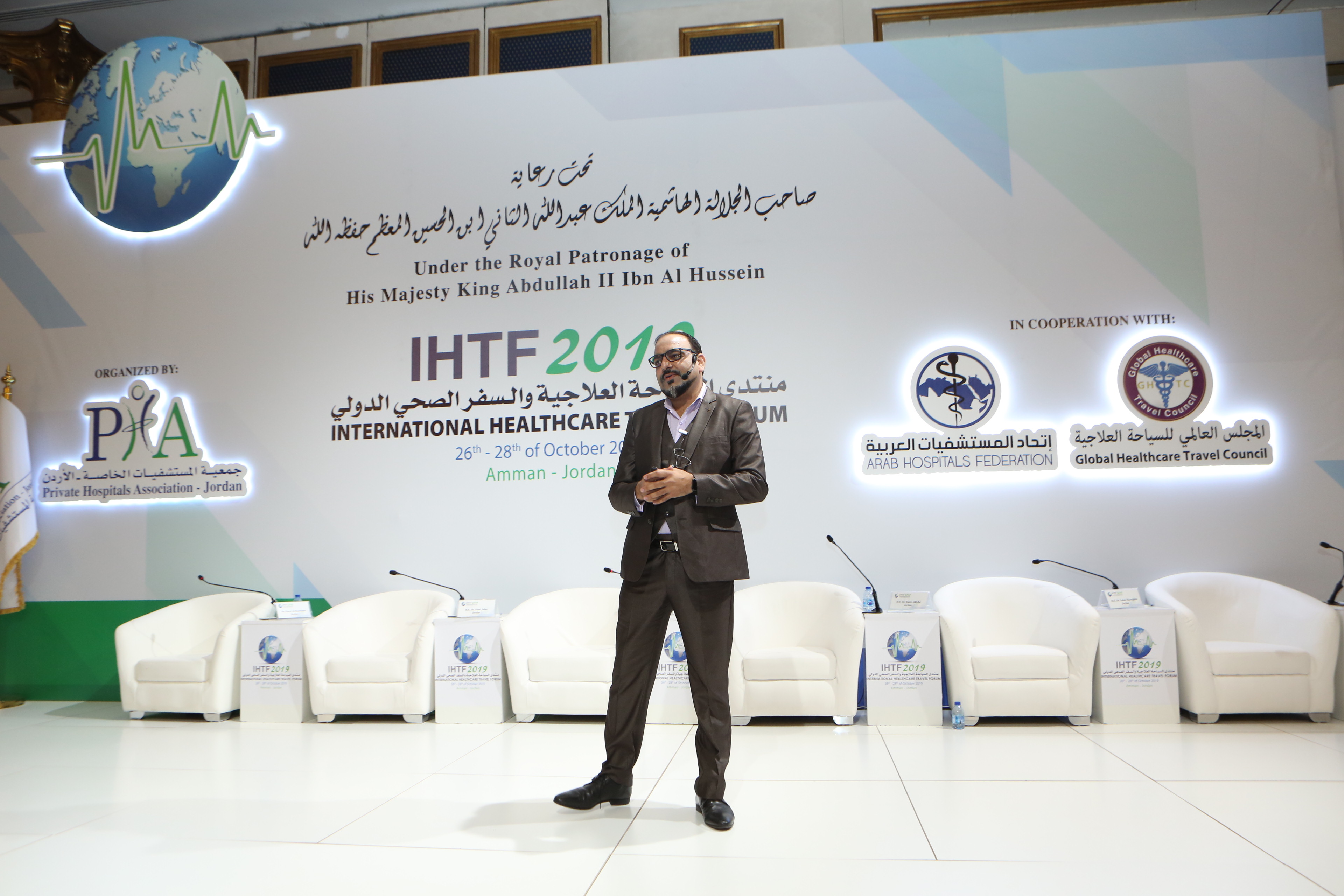 Comparatively, a higher number of Jordanians suffer from chronic lifestyle diseases and critical ailment. Therefore, the country's spend in healthcare is appreciably higher which is about 10% of its GDP. The $1 billion medical tourism market of Jordan is highly competitive and price sensitive. Consequently, there is a constant demand for advanced medical support fostering the growth in healthcare sector.
Against this backdrop, conducting the GHTF meet carries immense significance to further the growth of the existing robust medical tourism market. The GHTF meet came up with a well charted agenda duly emphasizing on the key growth areas pointing out other important segments of diversification.
A comparative picture of the leading medical tourism destinations was portrayed identifying the areas of strength that propelled their growth. International accreditations, compliance with regulations, treatment quality and safety aspect of the patients were given serious consideration to facilitate a great medical tourism experience for travelers. It is important to note that Jordan has well framed regulations for medical practice and procedures that encourages abroad tourists to seek medical support here.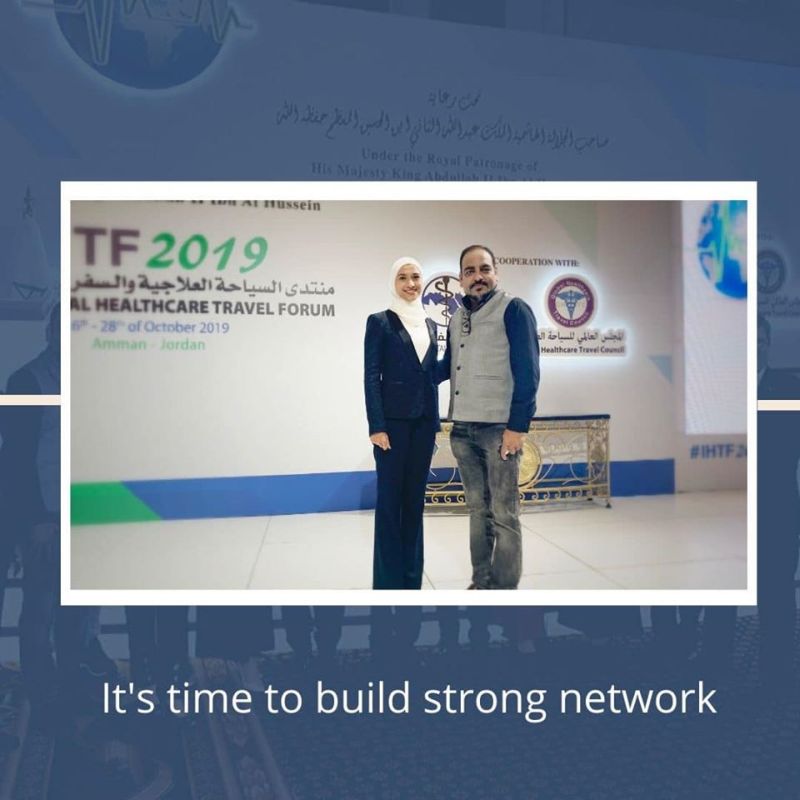 The conference also brought into light notable breakthroughs in stem cell treatment and advanced cancer treatments that the country can boast of. It also showcased the importance of certified specialization programs to set a benchmark of professionalism in medical tourism. It did praise the continuous royal patronage that has helped in achieving great breakthroughs.
The need to popularize hospitality and tourism education was also discussed in this meet. The GHTF also did not miss to emphasize on the importance of continuous innovation of marketing strategies that would portray the country's image as the most reliable brand in the global platform.
The forum witnessed the signing of several significant agreements between the leading medical institutions and medical service providers that would generate a continuous benefit in medical tourism. That the country is looking for an all round progress in the medical and wellness tourism sector to maintain its lead is clearly spelt out in this meet.