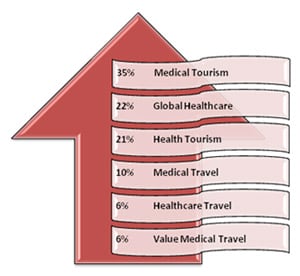 Result Summary
The preferred term from 85% respondents for this particular sector of the healthcare industry is 'Medical Tourism,' with 35% selecting this option. 'Global Healthcare' was the next most popular term at 22%, with 'Health Tourism' running a close third at 21%. 'Medical Travel' was identified by 10% of respondents as their preferred description, with 'Healthcare Travel' and 'Value Medical Travel' both at 6%.
Analysis
There are several terms used for medical tourism across the world to refer to this industry, but this particular one is used most commonly because many people are confused with other expressions. For example, 'Global Healthcare' is used widely, even outside of the specialist medical/healthcare tourism/travel field. The term Value Medical Travel is mainly used in India and most of the respondents who stated a preference for this term were either Indian nationals or who were closely associated with the India region.
Medical Tourism is a term interchangeable with "Medical Travel", 'Health Travel" and "Health Tourism". Each can be broken down into its constituent parts but basically it describes individuals traveling abroad for any type of medical, quasi-medical or health treatment. It also descri
bes the growing global industry of healthcare providers, doctors, clinics and hospitals who are marketing themselves to overseas patients.
Another interesting finding came from a separate research that the term 'Medical Tourism' takes a 65% share in online presence*; a figure which is almost five time higher than the second term 'Global Healthcare' at 13%. 'Health Tourism' at 11% and 'Medical Travel' at 8%. 'Healthcare Travel' and 'Value Medical Travel' both had a mere 1% share. * This evaluation was based on a combined search engine result share utilizing Goggle and Yahoo. All terms were searched at both search engine and results were evaluated based on individual term results against total results.