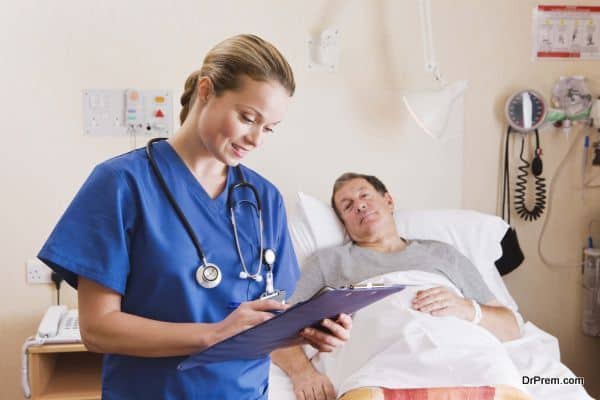 You might have spun the globe and chosen the perfect destination for you to engage in medical treatment and are thoroughly satisfied with your choice. Now that the decision of where you are going is made, it is time to face another crucial selection—which hospital or clinic will you receive the medical treatment from. The wrong choice of medical facility could affect your entire treatment, which in turn could end up affecting you for the rest of your life.
Most patients are clueless about the factors to look for in selecting the ideal hospital. In your hometown you may be accustomed to accessing medical care through your local physician or in terms of emergency care. Even with more specialized treatment, you likely depend on the facility where your family physician practices. However, in this new generation of overabundance of information and resources, you should attempt to be an informed consumer and familiarize yourself with what to look for in a well-respected treating facility.
This section will help a medical tourist understand everything they need to know from accreditations to international affiliations. Hopefully, it will help to guide your thinking process on the important factors to consider prior to selecting the right healthcare facility for you, and your condition.
All medical institutions have a system of quality measures that they implement within their facilities, with some demonstrating a higher level of quality than others. In each country regulations are set by governments; in some countries providers follow these regulations stringently and in others more loosely. In some countries or segmented sectors, governments have launched mandatory accreditations, for instance Dubai Healthcare City has its own regulation body which enforces that all providers operating within Dubai Healthcare City to follow standard practices set by DHCC, which are based on international standards and as part of ISQUA. The body that 'accredits the accreditors' is known as ISQuA which ensures that that the accrediting organizations are also following strict guidelines and international codes.
It is strongly suggested that you choose to visit a healthcare facility which operates on an international code of quality practice. Patients coming in from the UK or the US are accustomed to a certain level of treatment, and will not settle for anything less than that. So, if hospitals in India and Thailand want to compete with these highly technologically advanced facilities around the world, they need to step up their game.
Accrediting organizations
A foreign facility can demonstrate the fact that they take the issue of quality health-care seriously by ensuring their accreditation by one of the esteemed accrediting international bodies. Organizations such as Joint Commission International (JCI) have stringent requirements that must be adhered to before they grant a hospital a JCI accreditation stamp. Other influential accrediting bodies are QHA Trent Accreditation based in the UK, International Organization for Standardization (ISO) and Accreditation Canada.
Affiliations with international organizations
Along with having a stamp of international accreditation, most medical facilities catering to foreign patients tend to have affiliations and associations with key medical organizations around the world. These facilities that can boast international affiliations truly demonstrate their ability to associate with world-class institutions.
Some examples of renowned institutions that have paired up with medical tourism facilities are Harvard Medical International, Johns Hopkins Hospital, Cleveland Clinic and Mayo Clinic. These international organizations ensure that the treating hospital takes the issue of patient satisfaction and quality care very seriously as their reputation is at stake too. They will visit the treating facility and conduct training sessions to bring the quality up to an international level.
Also, by affiliating with an American or European hospital, patients from that region will be familiar with the name, brand and reputation of the organization and be more willing to trust the facility. You can then trust the fact that the facility will be operating at a similar or higher level than the institution they are affiliated with.
Important note on quality of non-accredited medical facilities
Even though international accreditation is a sure-fire way to demonstrate that facilities are practicing high quality standards, it is important to note that a non-accredited facility could be operating at a high level too. There are several popular medical tourism facilities that have not yet applied for an accreditation as it takes a lot of preparation and commitment. These organizations are usually accredited by a local accreditation body (usually through the country's local health authority). This also demonstrates that they have displayed a high level of quality practices within their facilities and are safe for patients to receive treatment from.
Location is an important criteria when selecting a medical tourism facility
Another important factor to consider when selecting the right facility for you is the location of the clinic. Questions regarding the location that you should ask yourself: Is it right in the middle of the city? Or does it require a great deal of transportation to access? Is it located in a safe area, or is there a high crime rate in the area surrounding it?
Many tourism destinations have a poor transportation infrastructure, so you want to determine that the location of the facility is within close proximity to the area you will be staying in so you do not have to waste time getting lost or stuck in traffic. Before leaving, make sure that you utilize a map service (GoogleEarth or Maps.com) that could help you locate where exactly your hospital would be, in terms of surrounding area and in terms of your accommodation. This way, you will have no surprises when you actually reach your destination.
Positive outcomes and high success rates of a foreign medical facility
Established hospitals should have clear and transparent data on the outcomes of certain treatments. Along with these outcomes should be the success rates of the procedures (in reference to their facility, not in general). These success rates are basically the ratio of successful and smooth procedures in comparison to the total number of those performed. This type of data should be collected within the hospital, cross-checked to make sure the information is not falsified, and then made available to patients and industry members.
Transparency has become a big issue within the healthcare industry, and any healthcare facility that does not have 'transparent' practices in place should not function as a medical tourism destination that hosts foreign patients. Transparency is the practice of making all data available to the public and not having any secrets from the paying consumer. Within the realm of transparency, the data being made public should be properly explained and understandable to an average consumer.
Patients should be made aware that for common procedures, they should not accept a success rate lower than 98%. The 2 percent discrepancy accounts for human or unforeseeable errors (or whatever best success rate is set by international accreditations). However, since most procedures have standardized protocols (the accepted or 'right' way to perform a procedure), there is no excuse for having a low success rate. If this data is not available on the website, you need to do a personal enquiry with the international patient department who should be more than willing to comply.
Does the medical facility provide arrangements for patients
Besides just the basic informational advice that a hospital can provide, there are other free aspects they provide you with if you avail of the treatment at that facility. These factors can really help smooth your entire medical trip and might eliminate the need for you to make certain preparations. Some facilities will provide the transportation to and from the hospital. Others might be affiliated with a certain hotel that could provide you with better rates due to the fact that you are seeking treatment at their facility.
All patients need to enquire about these arrangements prior to travelling as it could ease out your preparations checklists. Complimentary transportation for the duration of your medical needs will certainly be easier on you and your budget. Most hospitals are ready to compromise a lot in order to make their customers happy. So if they are willing to provide you with these little perks, be sure and benefit from it.
Level of communication of the foreign medical facility
As a medical tourist you probably have tons of questions and concerns about the journey. We have previously listed all the possible people that a patient could seek guidance from prior to travel. However, there is no better organization to provide you with advice than the facility you are planning to seek treatment from. They have all the information and resources you would require to make an appropriate decision about whether to seek care from them or not.
Being able to communicate with the hospital and the importance they place on interacting with the patient is a determining factor on whether this hospital is worth your time and investment. All established medical tourism facilities should have an international patient department whose job is to create a channel of communication with the patient. They should be able to respond to all of your queries and provide top-notch customer service, before AND after your treatment.
It would be advisable to begin communication with one key person and build a relationship with them. You could ask them about any documents you might need (such as informed consents and medical itineraries) and also ask for guidance regarding anything you don't know. This person should be available as much as possible to help answer your questions and concerns.
Besides the availability factor, the hospital should be able to communicate in a clear language you can understand. If there is a communication barrier between you and anyone from the hospital, this could directly or indirectly affect your entire course of treatment. If the hospital is in a country that does not speak your mother tongue, ensure they have a translation service on board that can accurately translate yours and the physician's dialogue.
Selecting a fully integrated medical facility abroad
Patients should always choose a healthcare facility that has as many features as possible on the premises, especially if you are travelling out of your home country. This will save you a lot of time, money and effort as you will only need to familiarize yourself with one location rather than running around in a place that is foreign to you.
A clinic or smaller medical facility usually has a limited selection of available services to offer a patient. It might just have a room for consultations to take place, but no available resources to conduct any diagnostic or lab tests or an operating room to handle the procedure.
A hospital on the other hand that is fully integrated will be able to cater to patients that are coming in for common, routine procedures as well as more specialized, complex treatments.  They will have separate areas for consultations, an area to conduct all the relevant medical tests, a pathology and laboratory division to analyze the tests and pharmacies that can dispense medication.
These integrated hospitals provide patients with much needed benefits. This is so patients can just focus on preparing for the treatment and healing once it has completed, rather than going around a new city looking for the individual services required. Integrated facilities usually operate on a higher level of quality, since they have more services to offer. Also, they are more likely to be able to handle an emergency situation (as ER facilities are also available).
The reputation of the medical facility abroad (in the industry and among locals)
There are certain hospitals and clinics such as Johns Hopkins and Mayo Clinic that have a solid reputation within the healthcare industry and among patients as well. They operate at a high level of quality and never fail when it comes to patient and customer satisfaction. They are the leaders in the field, in terms of the treatments they provide and the physicians they hire. Going into a Mayo or Cleveland clinic, you are guaranteed to have a pleasant experience as they will thoroughly take care of your needs.
The examples above are those facilities that have a strong global presence; however, patients should find out (either through research or word-of-mouth) if the facility they are interested in has a respectable reputation within the country they are practicing in or even internationally. If patients and industry leaders speak highly of the institution, then you know it is a facility that is worth entrusting your life with.
Current patient experiences (testimonials) at the foreign facility
Patient testimonials can come directly from the patients themselves (either from an online forum or patient websites), through customer satisfaction rankings, or provided by the hospitals themselves. Foreign patients thinking of selecting a hospital to seek a certain treatment need to do a search on what patients have experienced while staying and being treated at that hospital.
Do most patients vouch for the hospital and vow to always come back when they want to seek treatments? Did a few patients have a horrible experience, and why? All these questions can be answered through your own personal research and through communication with the patient departments at the hospital. If possible, they could provide you with the name and contact of recent patients that have visited the facility so you could speak to them directly, or they could release some of the patient satisfaction findings. All these queries will help gauge how patients in similar conditions or situations to yours felt about the treating facility.
Well established international patient departments of the medical facility
Many hospitals have established International Patient Departments, which communicate with patients and work to liaise between the patient and healthcare facilities. Such a department provides an increase in overall patient satisfaction.  With multilingual expert staff on board, the international patient department will be able to understand your needs and respond to you accordingly.
But do not forget that the international patient department is just a communication department; you cannot assume that just because the international patient department communicates well, that all the physicians at the facility will communicate with you in a language of your choice. You must further evaluate the qualifications of the physician who will be providing you with care.
General questions a medical tourist should ask to a foreign hospital
As a medical tourist, will I have the right to use all modern amenities at the hospital?
Is the hospital air conditioned?
Does the hospital have cable, television, and internet access?
Does the hospital provide newspapers, magazines, and other reading material?
On request, would it be possible to contact and talk to former medical tourism patients?
What privacy policy does the hospital follow?
Should somebody from my family accompany me?
Is a translator needed, if yes, will the hospital provide one?
Are the facilities in the hospital up-to-date?
Are the doctors and surgeons well-qualified as per international standards?
Is the hospital accessible? How can I reach the hospital?
What services are billed in my medical estimate?
What are the acceptable modes of payment?
Questions about the treatment a medical tourist should ask
Will I have to sign a consent form before any invasive procedure? If yes, can I review it in advance and make changes, if required?
In the event that the hospital is unable to provide the treatment when I arrive, will I get my money back?
Is the nursing service provided round-the-clock during recovery?
I follow strict dietary restrictions. Will the hospital provide the necessary support?
When do I leave from my country for the treatment?
When can I go back to my country after the treatment?
Questions about follow-up care a medical tourist should ask
Am I allowed to take the medications back home with me?
Are there any medicines which may not be allowed while travelling? In which case, how do I continue my treatment?
Would I be given some prescription that can be filled in my country?
How would the follow-up care be provided?
Suppose I return back home and develop some complications, how will I be treated?
Will my primary care physician be allowed to administer follow-up care?
Questions about safety of data a medical tourist should ask
What precautions are taken for ensuring the safety of the medical records?
How will the medical reports be transferred if my primary care physician needs to consult them?
Importance of asking as many question as possible
Often patients feel nervous and vulnerable when it comes to particular medical services. While you may be comfortable enough questioning the staff at a hotel, you find yourself more submissive in matters related to medical treatment. Since you're paying to avail of top-notch healthcare, it becomes your right as a patient to ask as many questions as you want. Why should you have to pay the fees of an honorary visit by a doctor while in hospital when it has not been mentioned in your itinerary? Why should you also have to pay for services that are unnecessary? Proper interaction is a must with the doctors.
A physician should be able to explain why an additional service has been introduced during the treatment. While seeking the treatment, look for signs if the physician is unable to explain something. If you are not getting the right response it may be time to go back to the research stage and initiate a new search for another skilled doctor. It is quite appropriate to ask the physician how many patients they see in a month. If they are seeing too many, they may not have the time to give you personalised service or care, which could affect the overall treatment as a medical tourist.
As part of the enquiry, it is only right that you should ask about the outcome of the treatment and if there are any side-effects. Also check if they physician has treated any other patients with the same ailment successfully. You may wish to speak to some patients treated by your doctor. A competent doctor will not hesitate to provide such referrals.
As mentioned earlier a well qualified and highly skilled doctor is not likely to come cheap. Nevertheless, ask about the fees and then decide if it fits into your medical budget. It is normal for more experienced doctors to charge a higher fee as they deal with fewer patients. Doctors tend to demand for more professional fees if surgery is involved. As a potential patient, make a comparative chart of the fees you will incur during consultation, surgery and all the way through to post-operative care.
.