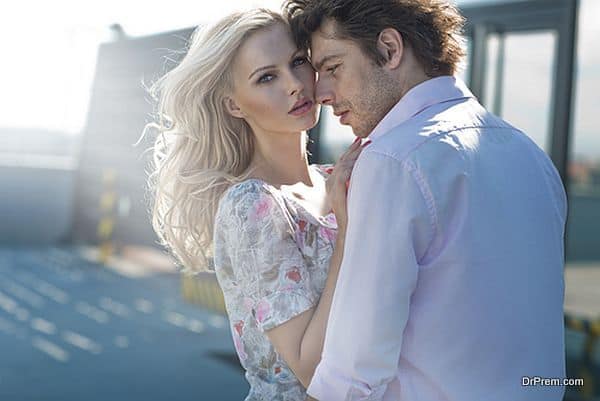 All couples will agree unanimously that for a healthy and long relationship you have to keep the flame of sex and love burning. Both the partners have to put in efforts to ensure that these two important aspects of a many woman relationship are always alive so that your relationship does not become dull and boring. Here are some tips to keep sex and love alive in your relationship
Come out of the fantasy world
All of us have the picture of a perfect soul mate but you have to understand that no one is perfect. No one is without fault, you included. You have to come out of your dream world and accept your partner with his shortcomings. Once you can accept him as he is it becomes easier to keep your love alive.
Mutual respect is a must
Both parties have to learn to mutually respect each other. It is important that right from the beginning both the partners decide never to behave or say words that may offend the other person. One of the reasons for couples ending in a divorce is the fact that one partner feels that his betterhalf does not respect him and his feelings and puts him down.
Learn to accept change
You have to understand that sex is not going to remain the same throughout your relationship. The meaning of having sex will be different through different phases of life. You cannot expect the same passionate moments that you had as a newly married couple in your middle age. Can you? As you age love would be more about friendship than excitement. Middle age is more holding hands and cherishing the memories of your youth.
Discussion is the key
If you feel that there is something missing in your relationship. That there seems to be no place for love and sex in your partner's life then gently bring up the topic with your partner and discuss. It may be that your partner is just too stressed out with professional life or there may be some other issues. Talk about and find a way out. Maybe just going for a second honeymoon may rekindle the flame.
Don't hesitate to get professional help
In worst scenario it may look like it's all over and there is no more love and so there is no question of sex life and this is it. But in such cases don't jump to conclusions. If you are not able to find a solution for the dying love in your relationship, then instead of just silently killing the relationship seek the help of a counsellor.He may be able to change your perspective.
A healthy love and sex life needs hard work from both partners. Both have to learn to accept changes and take steps to keep the emotional bonding and the relationship at its best.