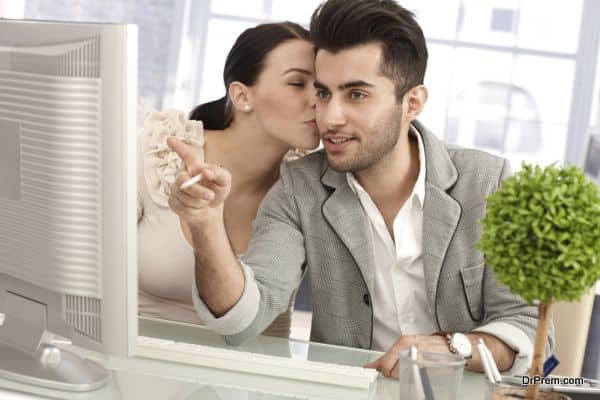 Our office is a place where we spend a great deal of our waking hours every day. Office is not just a place where we work but also a place where we communicate with others, we eat, joke around, and make friends. It would not be wrong to say that office is like another home because the time we spend there every day is equivalent to that we spend at homes. This is why some people find it better and lucrative to look for romance in office only, as they think they know the ones better with whom they work in office for long hours every day.
Moreover, life today is so busy that people find it hard to take out enough time to spend with someone and find a partner for them. Therefore, office seems to be a good choice for romance because it is like you get to spend a great deal of time with a person who is your colleague in office and your beloved too.
In reality, things are a bit different, and this topic of office romance is complicated. Many organizations literally ban office relationships, and in case a couple gets married, the one of the two has to resign from office. They do not entertain such relationships. On the other hand, some organizations encourage romance and love, as they believe that it brings down the distraction, which gives them efficient employees.
Therefore, there is a lot of confusion; in fact, it would not be wrong to say that workplace romance is a big dilemma. Nobody is clear as should they go for it, does it have a positive or a negative effect on people, and like. The answer to all these doubts and questions is that workplace romance is a combination of positive and negative feelings, and it does have a fair share of advantages and disadvantages.
The advantages of workplace romance
When our partner is away from us, we spend massive time on texting each other or talking to them over phone. Talking during lunch break is fine but sometimes the urge to talk to one's beloved is so strong that people tend to ignore their office work and utilize a great deal of time to get in touch with their partner. However, if your partner is in the same organization which you are in, you would feel more secure and happy, as your mind knows that your partner is just a few steps away from you.
You can see each other a number of times in a day and you do not even need to take leaves or half days to go out on lunch, as you can enjoy superb meals together in office food courts almost every day. Working in same office, the partners are like the pillars of strength for each other. They can share every little problem with each other because they know that their partner can truly understand what they are going through. The biggest advantage of a workplace romance is that it makes the office atmosphere exciting and happy for you, which makes you an efficient employee in an organization.
The disadvantages of workplace romance
The little birdie goes and tells about your romance to every employee and the boss, some of them start teasing you, some might feel jealous, and your boss starts taunting you. Disgusting and frustrating this situation becomes when everybody in the office seems to be interfering with your romance all the time.
For over possessive people the workplace romance becomes a tension because they do not like anybody else talking to their partner in office. Sometimes a couple needs a break from each other's company but while working in the same office, it becomes difficult for a couple to have that break, which causes conflicts and tension between them that eventually leads to a big fight. An ugly breakup could even put your job at risk.
Summary
An office romance is actually a dilemma, as it is something that has a fair share of advantages and disadvantages.