IOT is going to be big in healthcare – An analysis of benefits and challenges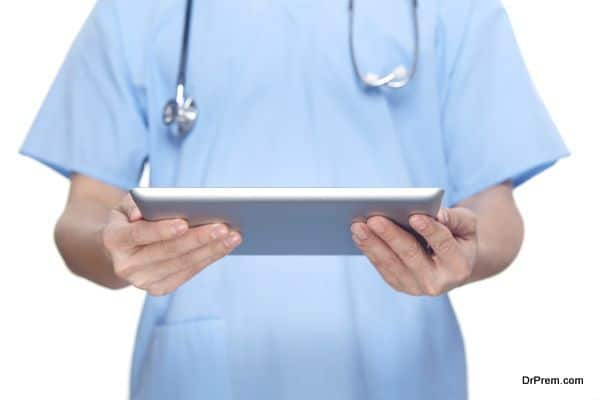 <![CDATA[Remaining connected is the buzzword in this millennium. IOT, the abbreviated form of Internet of Things is going to play a great role in redefining the healthcare support in a few years through a well-connected strong infrastructure-based connecting system bringing the remotely located healthcare seeker under its effective coverage.
Benefits of IOT for hospitals and healthcare:
The main application of IOT in the healthcare Industry lies in connecting several apps and devices, and people communicate through them in providing healthcare solutions. This is on a constant upgradation providing new effective tools that constitute a unified healthcare system with a view to provide quality patient service substantially reducing the healthcare expenses enhancing the success rates of treatments as well.
Thus, it is a cluster of many hopeful options through which wellness providers and clinics can draw the maximum resources through automated workflows and process refinement. Quite a large number of hospitals apply IOT for asset management and monitoring humidity and temperature in operation theatres.
The chief merits of IOT include the following:
Reduced expenses:
When the healthcare providers draw benefits from the internet protocol of healthcare solutions, patient monitoring is possible on a real-time basis thus reducing the visits by doctors that eats into time and cost elements.  Specifically, the home care facilities that are highly patient friendly are certain to mitigate the time you spend in hospitals including the complex admission procedures which often assume a bureaucratic character.
High success rates of treatment:
Connectivity of healthcare are solutions through cloud computing or other virtual modes  enabling care providers to get  an entry into real time inputs that help them to take informed decisions as well as provide  services that has back up substantiation. This makes sure the medical services are delivered in time. The results of the treatment meet with success most of the times.
Better disease management:
When patients are kept under close observation on a perpetual mode with healthcare providers getting a grip on real time data, treatment is done in time before the conditions aggravate.
Reduced errors:
Precision of data gathered and automated workflows integrated with data based decisions are unique ways of reducing unproductive time mitigating system costs and downsizing mistakes.
Enhanced patient experience:
The connectivity of the healthcare system aided by the internet of things puts primary focus on the patients that is protective treatment and precise diagnosis, immediate involvement by physicians and success in treatments which leads to a growing care responsibility winning the reliability of the clinic among patients who become largely dependent upon the system.
Enhanced management of drugs:
Selection, study and handling and delivery of drugs are main expense areas in the healthcare industry. However, with IOT installed in the system, the costs become manageable.
The rise of IOT in healthcare: What needs to take care of?
Although, the internet of things has revolutionized healthcare sector, it also poses an array of tests considering health data to be hypersensitive. Consequently,it's wrong application in generating health information may tarnish the image of the clinic and reliability of specialists connected. Furthermore, streaming and digitizing health data and its subsequent expanded application would probably affect the data centers in an adverse way.
As patient monitoring is elucidated to the application of devices that are connected to the patient's body at their residence, clinicians are pin pointed  with the responsibility of following up on  those long standing health disorders too when inclusion of the forecast analysis shoots up  demands on the data centre and facilities available at home.
Propriety medical services and failure on data sharing between provider and consumers call for a plug and play solution that runs on a standard language which may be programmed to encourage information sharing.
Safe guarding your data is imperative as they become vulnerable to damage with the rise in the volume of data handled and shared. The volume of data will rise substantially. Hence the need to guard this information from cyber assaults turn imperative.
The design of the internet of things is a potential analytical tool that requires a hybrid cloud environment or a hypervisor to run. These tools are crucial in making sure that network compliance is not violated as well as ensuring real time signals of flaws that include user access, network traffic, system errors, and alter management activities.
In a nutshell, IOT is here to rule. Its utility is expected to shoot as the healthcare providers look for taking help of modern technologies to promote service efficacy. IOT in healthcare is pivoted around connectivity making sure significant and accurate information is accessible to initiate action.IOT is destined to receive huge acceptance in hospitals as data sharing may turn easier in days to come.
Other key features:
-Optimization of device usage.
– Integrated clinical environment.
– Maximization of uptime.
– Machine aided decisions depending upon accuracy of inputs.
– Remote accessibility.
– Hugely popular with hospitals having an appetite for induction of modern technology.
– Connectivity is the prime strength of the system.
IOT, or Internet of Things will be utilized in a big manner along with telemedicine to provide efficient healthcare support at a reduced cost to all including remotely located healthcare seekers.]]>