BIGVU is a web and mobile app that basically helps you in exporting, recording, writing, and uploading them on all the main social media platforms. It includes all, from adding, mixing, and editing the video to even styling it. On top of this, BIGVU also comes with a superbly interactive user-friendly interface and it gives you the permission choose one from the following four different plans.
Different Plans of BIGVU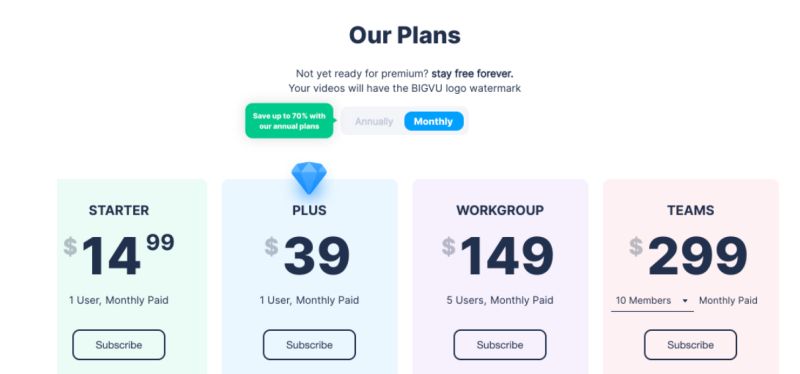 Image Source : bigvu.tv/pricing
Depending upon what your needsare, you can choose one of many plans that BIGVU offers. Let us take a look at the some of the most popular plans that BIGVU has to offer.
Free Version:
The free version allows you to work on the videos but with a lot of limitations. First of all, you'd be allowed to use only Teleprompter feature and the WordTrim. In addition, all of these videos would carry the watermark of the app. This is good if you want to try the app out, especially if you feel skeptical about going for any of the paid plans.
Starter Plan:
This plan allows you to work videos that are up to 9 minutes long without the watermark for $14.99 per month (or $79.99 per year). It includes many benefits like automatic captions, your own logo, music, etc. It's good enough for personal use. But if you want to take things to a professional level, we'd suggest that you opt for a higher plan.
Plus Plan
At a price of $39 a month (or $139 per year), the Plus Plan offers a lot more added benefits like handling of videos up to 59 minutes long, desktop teleprompter, and video analytics. Furthermore, it also allows you to do customized branding. This plan is ideal for professionals and influencers who have limited amount of work and there's only a single person handling it.
Workgroup Plan: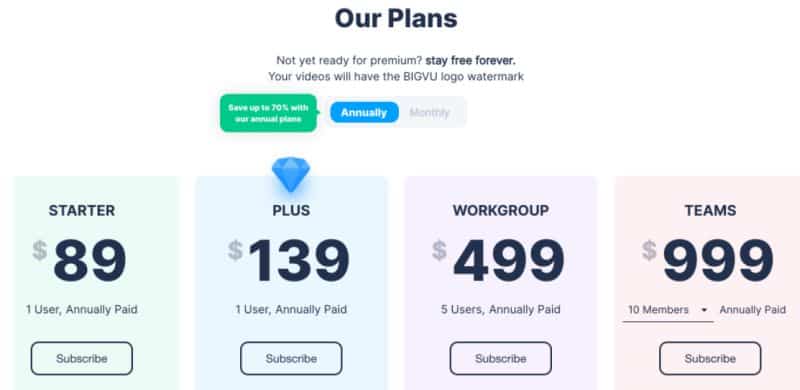 This is the penultimate BIGVU plan that's out there. It includes all the benefits of the former plans along with a team license that allows five people to work on your videos. Moreover, each user can use up to 2 devices for their work. In addition, there's also a shared workspace and media library. You'd get all this at a price of $149 per month (or $499.99 per year).
Team Plan
Team plan has everything that Workgroup plan has; the only difference is it allows 10+ members along with multiple desks (with different permissions). This plan starts from $300 per month (or $999 per year) and it's cost increases with the number of users. It is most suitable for larger firms.
The Advantages of Workgroup Plan of BIGVU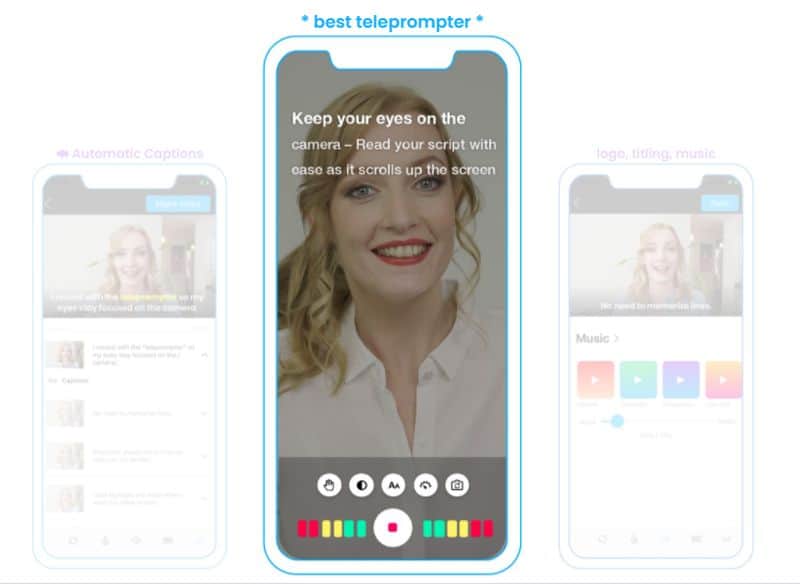 Image Source : bigvu.tv
All the other plans would be sufficient for your one's personal use. But, if you have a small business and want software to that can efficiently handle the video uploads all its social media channels, Workgroup Plan is the one you should go for. This is the ultimate plan for the BIGVU Teleprompter App and Video Maker, and it has the following advantages:
1. Fast and User-Friendly
Depending upon the number and type of social media handles your team is using, speed determines a lot. Most of the platforms like YouTube and Instagram give preference to the users who post more frequently. This is what gives an edge to BIGVU.
Moreover, working on the app doesn't involve any complicated procedure, as it is very user friendly. You can customize your work according the social media platform on which you are uploading it.
On an average, it won't take you more than 10 minutes to finish styling and editing video. This is what makes it ideal for professional use.
2. Multiple Users
The Workgroup Plan gives you a team license. Which implies that up to ten users can work on that license and each user can use 2 devices for their work. This is more than enough for all the marketing needs of a small business firm.
3. Corporate Branding All-in-One
From adding titles, logos, and fonts to providing suitable background music to your video, this app provides you with all that you need to customize your videos according to your brand. In addition, there would be nothing like a watermark etc. that might make you lose on creativity.
4. Shared Media Library
This is another function that helps your team save immensely on their time and resources. The Workgroup Plan provides you with an option to keep all your creative within a shared media library. You simply have to drag and drop the files, which both you and your team members could use later on.
5. Complete Administrator Control
If you are the owner or the manager of a small business firm who likes to decide the roles of the employees, this app would provide you an additional resource. With it, you can have your decision regarding the permissions i.e. you can decide on what all the users are allowed to access and change. This would help you in monitoring the employees, as it allows you to determine who is responsible for what.
That's certainly not all. The Workgroup plan also has a range of other advantages like automatic captioning, green screen replacement, one-on-one training session etc. In short, whatever you need from a video editing app for social media use, you'd find it with the Workgroup Plan of BIGVU.