Creating a professional post takes a lot of time and is expensive, if you get your designs done through an agency. DesignCap is a very reasonably priced online resource for all types of graphic design needs. From flyers, posters, banners and presentations, the resources available online can be used many times, according to your design needs. In this guide, I am going to take a closer look at the various features it offers and how it can benefit you.
DesignCap features: how they help in design 
Well-grouped modules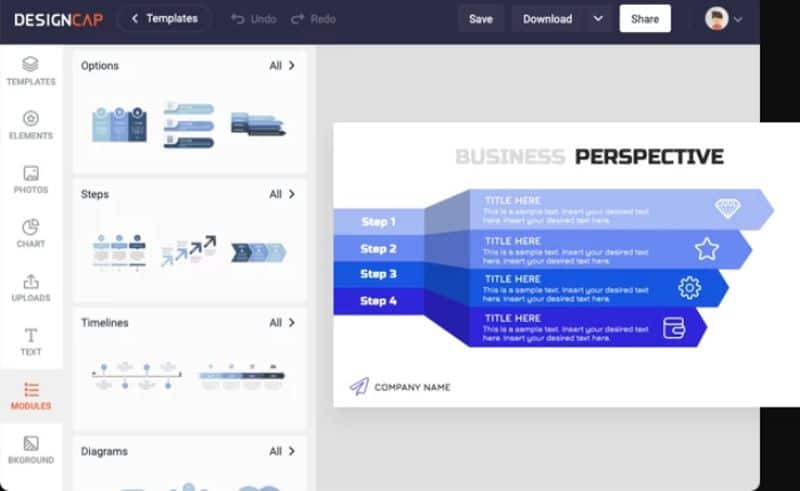 Image Source : designcap.com
The feature which I liked most was the modules feature. There are quite a number of modules which you can use. These modules combine icons, text, images etc giving you a quick option to choose your module and create a cohesive design faster. 
Huge Template Library
The main problem I used to face, as a freelancer, was the scarcity of stock images online. If I wanted a good image which would be perfect for my design, I would have to shell out a hefty amount to use it, and many of the free images available online are not up to the mark. So, one of the major benefits of DesignCap is the huge range of resources including images and templates it has.
The readymade templates save me a lot of time and effort. 
Millions of photos and art

Image Source : designcap.com
The images number in millions. There are a good number of options to choose from for any project, professional or personal. You can use them for creating extremely attractive social media posts for yourself or your company, for facebook, Pinterest or Instagram. I did receive a good response from my social media posts, which I was able to design in a jiffy, using DesignCap.com.
For YouTubers, there are banner and thumbnail options as well.
You can edit the photos too, using their photo editing feature. This will give a personalized feel to your designs. Photos are classified according to various categories/topics, which makes it easier to find the photo or image you are looking for. The millions of high resolution photos are invaluable for expressing your creativity in a professional manner. This is one of the best advantages of DesignCap, according to me.
When you click on the photo you want, it gets added to your workspace/template canvas. Then you can add special effects, filter adjust, rotate, crop and flip. Add layers, align to page, duplicate and then delete it, if you don't like the result! Rotation and drag tools make it easier to handle the photo/image. 
Elements
There are two types of elements, Icon and Shapes. Shape includes solid as well as outlined shapes, lines and more. If you click on the 'All' button, you are shown all the options. Click on the option and you can add it to your project. With color picker, rotation, flip, border and opacity tools, you can enhance the shape and give it the right nuance suited to your design. 
Editing feature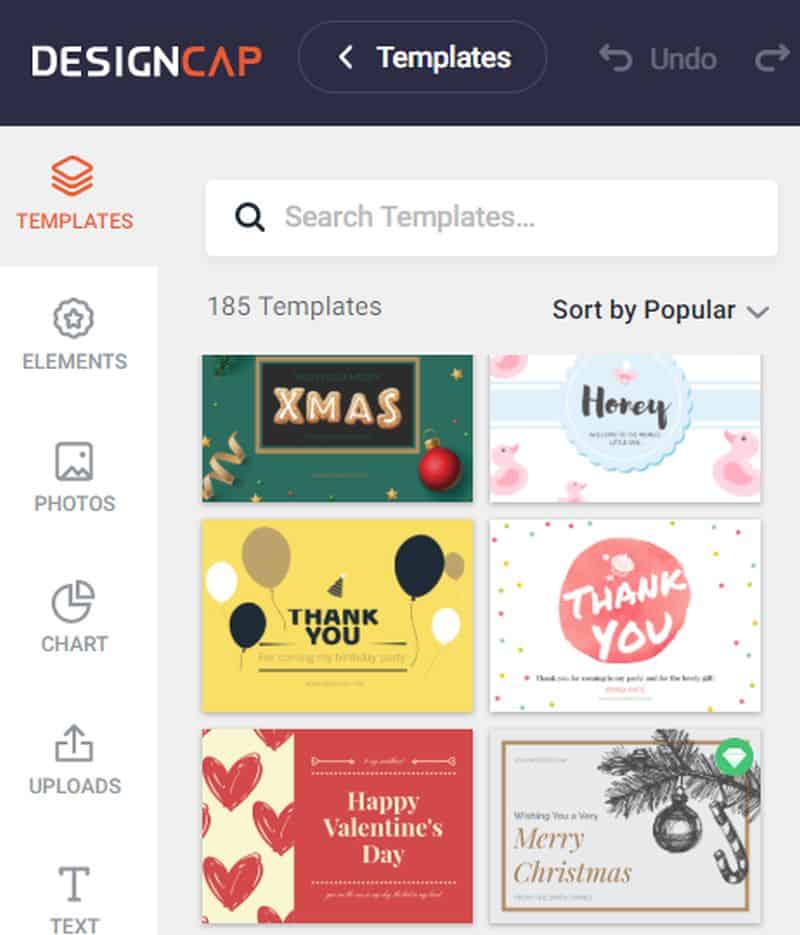 Image Source : designcap.com
When you click on an option, you will see the editing option. There are buttons to redo, undo, save, share and download. You can create your designs in DesignCap itself. First, you have to select the type of project you want to create. After that, the relevant options, such as charts, uploads, elements, text, modules etc are displayed.
Business cards, logos, menus, invitations, infographics, flyers, posters and other marketing material can be created by choosing the marketing module. If you choose social media, then the options to create social media posts are suggested. More than 220,000 illustrations can be modified according to your need.
How to create a project
I found that creating a new project was quite simple – all you have to do is select a template and create a project. The project is then placed in the large 'canvas' area, wherein you can add pages, copy page, move page up or page down, and delete any page you don't want. The zoom feature as well as the help button are additional tools which makes this online design platform user friendly.
Place your text, icons, illustrations, background, images etc in the page/pages and customize them with the editing tools. Even a novice designer can design awesome designs with DesignCap's tools, as they are quite uncomplicated.
After your design is complete, you can export or share it. 
Price point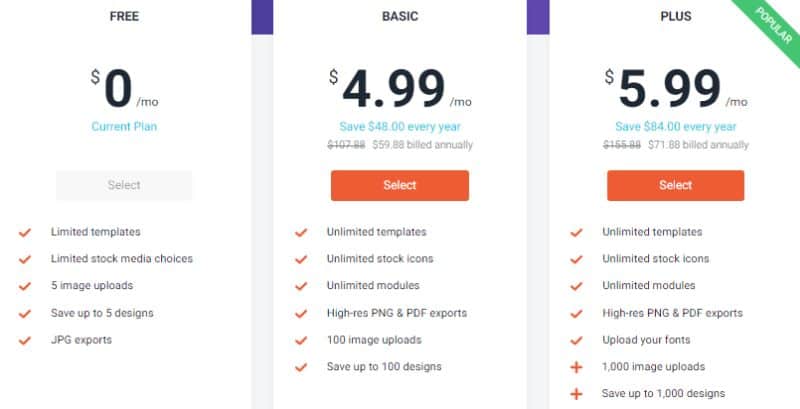 Image Source : designcap.com
If you are not a professional designer, then you can start using the site for free. There will be a limit on the number of images etc, but it might be enough to serve your purpose. And for just 5 dollars (basic plan) and 6 dollars (plus plan), you get access to unlimited options.
DesignCap is therefore one of the most useful and advanced design tools you can access online for a nominal fee per month. It has helped me and other freelancers and professionals to design impressive and effective designs.