Off Beat
The 7 Best Aweber Alternatives for 2019
Ecommerce has many different technologies to help promote growth and consolidate information and messaging for maximum impact. The data-driven marketer must consider ways to use and coordinate all of the available means or channels for engaging potential customers.
Aweber is a widely used email marketing service, which offers a relatively simple interface, which most merchants use to build a mailing list of subscribers. Once completed, they can insert subscriber data, design a series of newsletters, and send them as email marketing content.
However, email marketing today must be specific and sophisticated to reach the audience, create engagement, and trigger conversions. For greater impact and improved performance, you should consider some Aweber alternatives.
#1. Omnisend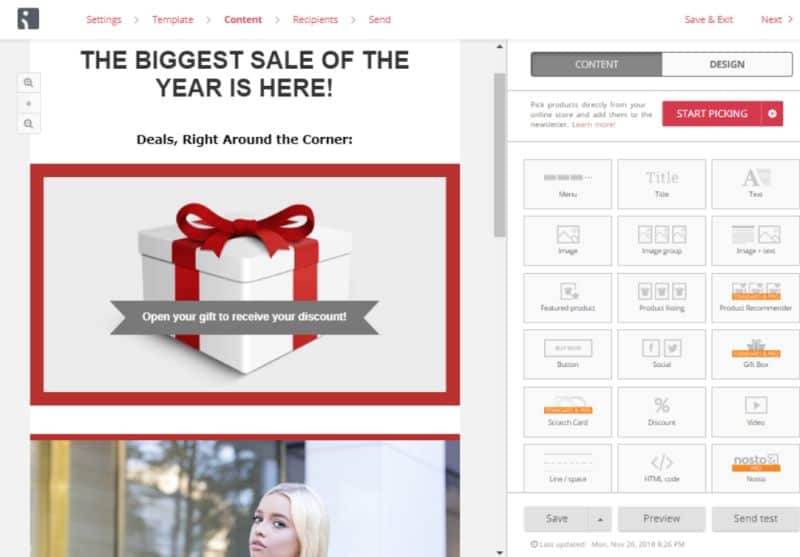 Omnisend is an ideal program to realize ecommerce business growth. Users can set a purchase in motion with welcome emails, increase sales with a Campaign Booster, and save opportunities with Cart Recovery. Marketers can use one-click install and create campaigns quickly by adding products while viewing the store.
Feature comparisons show some outstanding money-making advantages. Omnisend makes email marketing personal and responsive. Internet users have little time for content that is not immediately relevant to their interests. Successful marketing uses high-level personalization and puts your data to work to deliver the message to the customer's buying behavior.
Ideally, sellers wish to reach the customer at the precise time that he and she makes a purchase decision. Access maximizes ecommerce opportunities; sales climb when customers can engage with the seller at all times and by any channel they prefer. Omnisend offers the best combination of sales impact, costs, support, and ease of operation, earning it a top position among Aweber alternatives in our list.
#2. MailChimp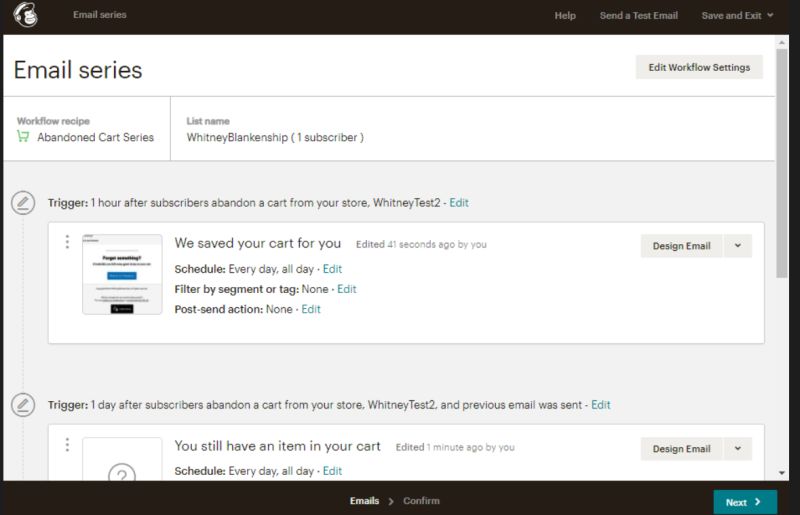 MailChimp is a mail automation platform and an email management service. The provider has more than seven million users worldwide, the basic process is a simple drag and drop using a large number of templates.
Customers can create impressive emails quickly. Mailchimp is a web-based application that works with most web browsers. The company offers resources to guide the startup and aid new users.
Ease of operation is the best part of Mailchimp, and it offers a solid newsletter email platform. Once the user establishes a list of customers or subscribers and a sign-up form, they can follow simple steps to create a campaign and begin reviewing reports.
This service is larger than many other Aweber alternatives, and it works well with other complementary systems like Google Analytics and PayPal.
#3. SendinBlue
The strong point of this ecommerce tool is the visual composer feature. In a matter of minutes, users can create an impressive campaign with a professional look. Once established, marketers can use SMS campaigns in email workflows.
SendinBlue offers some sample workflows to help inspire sellers to develop segments and variety for their subscribers.
Overall, SendinBlue is a solid email tool with an easily understood format. It may lack some of the sophisticated features that other email marketing tools provide; SendinBlue does a good job with the toolset that it provides in a clear and easy to manage form.
SendinBlue is a good tool for marketers that do not need more than the basics or wish to start with a basic system.
#4. Drip Marketing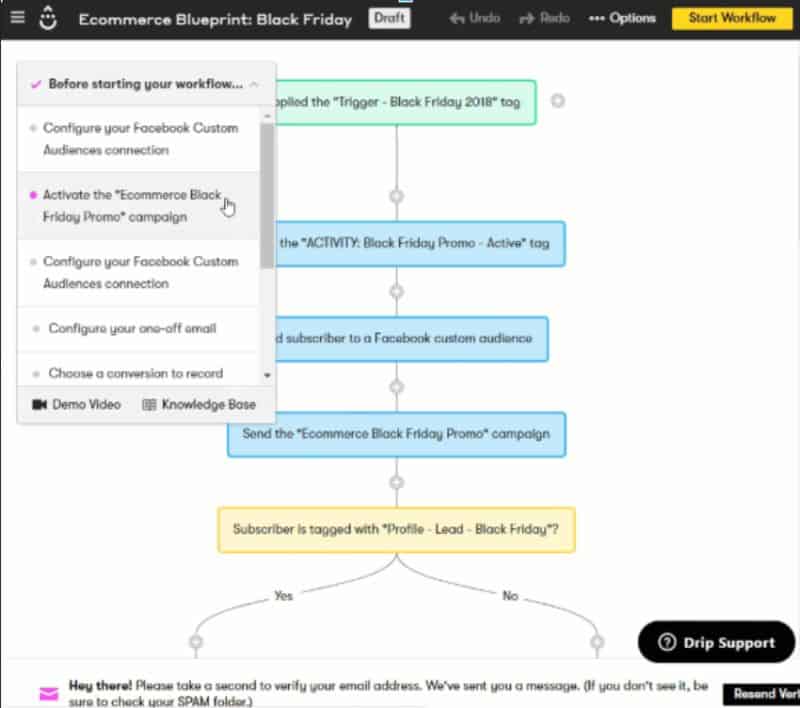 Drip has a remarkable visual platform, and it is a service aimed at a range of email users. It is simple enough for first-time marketers and robust and feature-rich for the needs of established professionals.
The main focus of Drip is to offer workflows for email campaigns. The program offers some simple initial workflows to get started.
Many observers notice that drip does not offer a free-flowing design template. The structure has defined header, footer, and body compartments which tend to make the emails similar in structure. This is a helpful structure for beginners that have used similar types of setups.
Drip is a good alternative to Aweber for new users or those who prefer a simple format.
#5. SmartrMail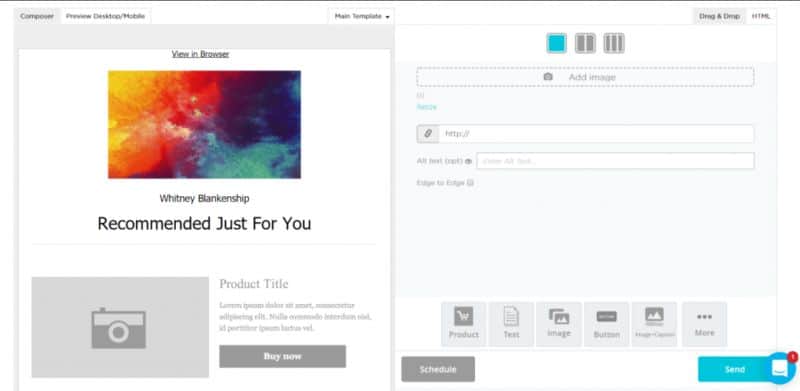 SmartrMail is an email tool that goes straight to the point. SmartrMail does not match up with Aweber on a feature-for-feature basis, but the service focuses on making email marketing easy to perform. You can use email to connect with customers and automated updates to reinforce your brand or foster customer loyalty.
SmartrMail may be ideal for those that only need an upgrade to a traditional email system. The system works for email automation, and it sets auto-updating from the start when marketers join the platform.
SmartrMail uses an intuitive drag and drop setup and email campaign builder. The simple system supports basic newsletter campaigns. The platform does not connect to the ecommerce store, and users must manually add products to the emails or newsletter as content.
#6. Campaigner
This program is ideal for businesses with a small list of subscribers. It is essentially an upgrade to traditional email marketing with automation, advanced workflows, and some enhanced delivery features.
Campaigner has an easy to use email editor, and it offers advanced segmenting that has triggers for activity, demographics, and past purchase behavior.
Campaigner also has workflows to guide users to develop plans that match their situation. It works with many other resources to boost analytics and improve KPI analysis.
#7. Active Campaign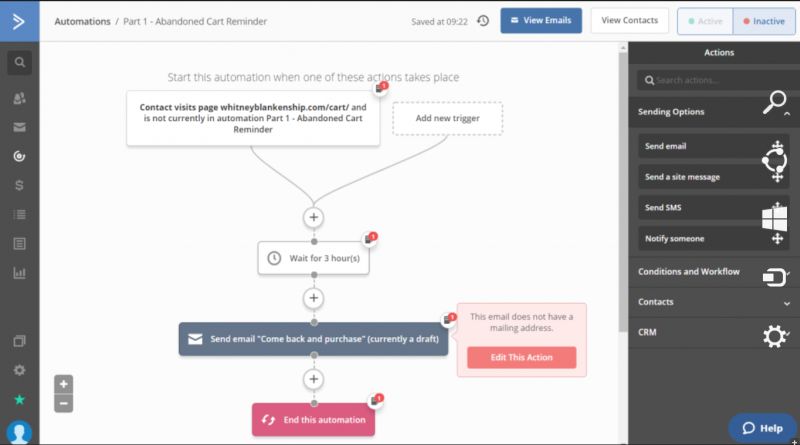 This is a powerful tool for managing multiple domains and building campaigns around specific lists. It is not a simple program, and the user's level of experience will play a big role in the ease of operation and their results. The program requires an experienced marketer and some well-defined customer parameters.
ActiveCampaign is certainly a robust tool, offering marketers the opportunity to use truly sophisticated multichannel features. One of the biggest differences between ActiveCampaign and the other tools on this list is that it has the look and feel of a CRM as opposed to an email marketing tool.
This program has excellent features for customer relations management; users can reinforce brand identity and customer loyalty. For inexperienced marketers or organizations that prefer a simple, intuitive operation, ActiveCampaign may not be the best choice.
Ecommerce Advantages Through Alternatives
After reviewing these Aweber alternatives, you have enough information to select a program that meets your email marketing needs.
It's important to look beyond what you know and discover tools that might be better for your email strategy. The future of ecommerce is blending the available technologies to maximize impact with customers, both future and current.
Ecommerce can be a tough and demanding business. Marketers must reach for advantages that can set them apart and provide a customer experience that's truly remarkable.
Article Submitted By Community Writer