Adverts are sometimes very innovative and inspiring. However, sometimes, a few advertisements spur immense controversy. Controversy is a word that is increasingly losing its pejorative tone. Controversy is often used to sell books, movies, products, and even the brand-image of individuals. In advertising, there are indeed many deliberately cooked up controversies, admittedly they help to attract the attention of the people. Here is a list of the world's most controversial ads.
Please note that the word controversial only means controversial, literally. Well, as a matter of fact, some of them may be inhuman in their approach, some of them may be mean, but all of them have created some controversy. Some of them, indeed, deliberately cooked up controversies from their cruel creative kitchens.
Adpunch is not supporting any of these ads. It has also tried not to be highly reproachful in its narration. Let the readers decide what is wrong and what is right…Or what are the true lies.
Rojer more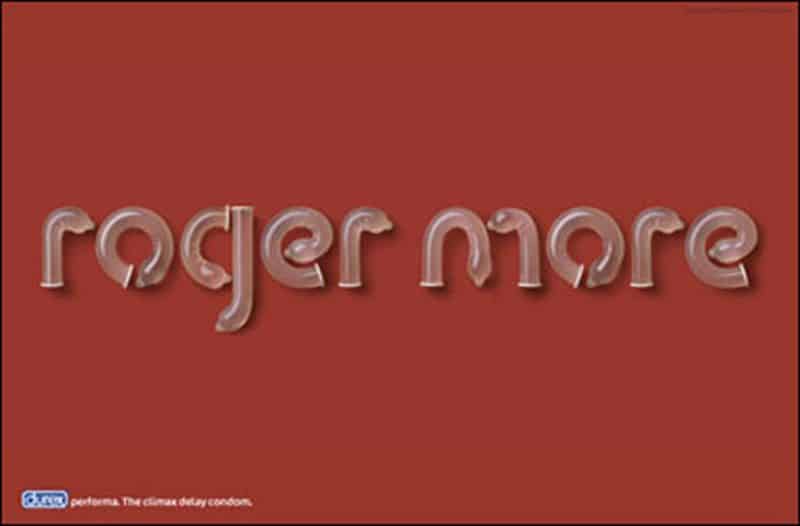 Image Source : coolmarketingthoughts.com
This condom ad – one of the most controversial ads – which featured inflated condoms to form the word €˜Rojer more' drew criticism from some quarters as it accursedly trivialized the Iraq war.
For men and women who want more
AshleyMadison.com, the website which provides a unique service for those who want to cheat on their husbands or wives, asked through the super bowl ad- Who Are You Doing after the Game?
But, the commercial got banned. Not surprising, as it was one of the most controversial ads in the world.
Imagine an anti-barbie-fat nude and nipple less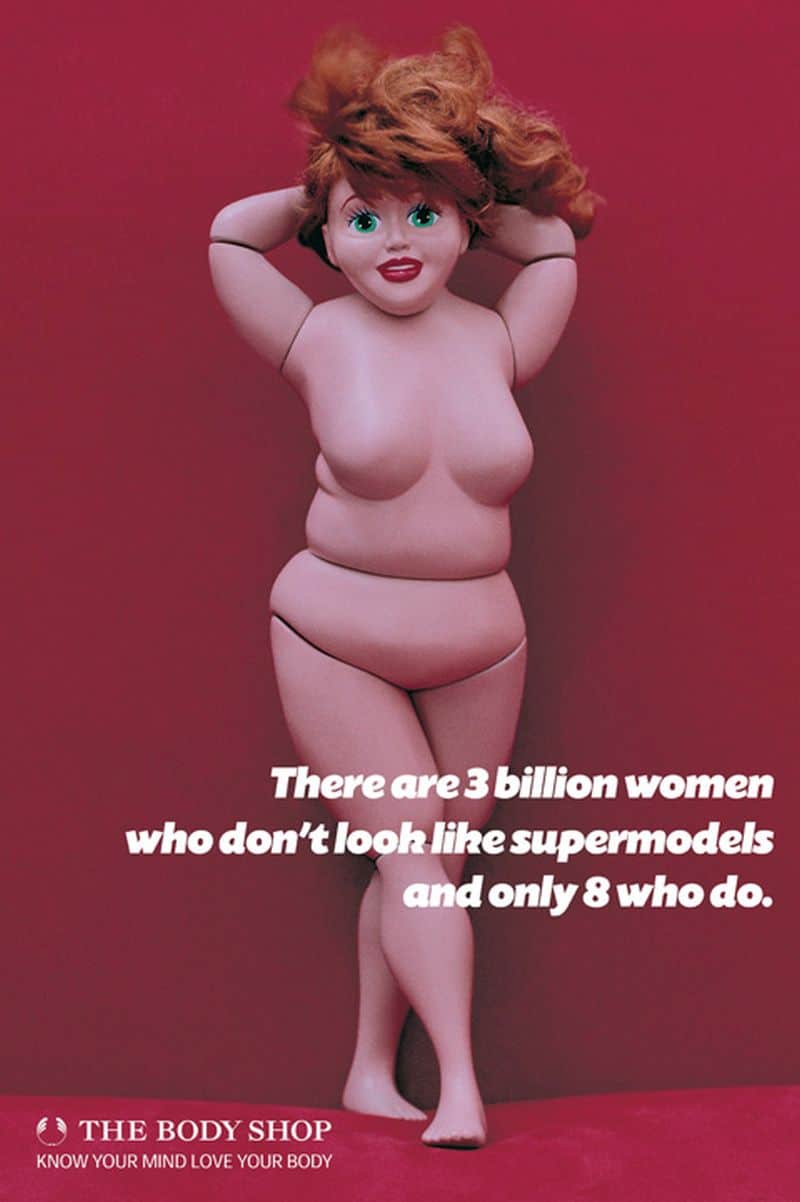 Image Source : absenceofalternatives.com
Oh, that will be slightly gross, at least for ' Barbie's manufacturer Mattel. A body shop has illegally tried to bank on the Barbie-fame by making Ruby – a self-proclaimed Anti-Barbie spokesperson. The adverts with Ruby were banned.
Girls dressed by boys in one of the most controversial ads 
This ad for Irish tv, shown on the TG4 network, left many people red-faced.
Even angels are naked in PETA ad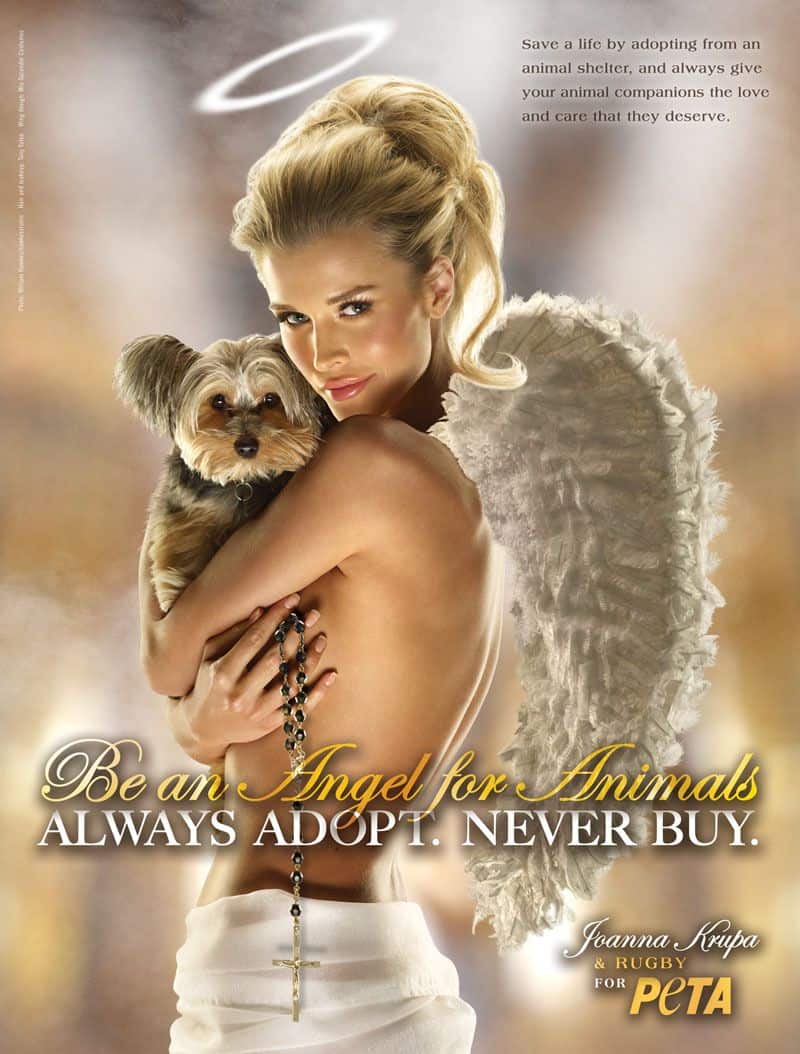 Image Source : secure.mediapeta.com
Look at this ad. Two innocent souls are staring at you. (Well, if you have only noticed one, change your negative attitude).
Be an angel for animals.
This advertisement for PETA urged us to save a life by adopting from an animal shelter.
Well, you don't know the half-naked angel featured in this ad? This is Joanna Krupa, the playboy beauty who has been eliminated from dancing with the stars.
PETA featured her as an angel, with digital halo wings and a rosary in her right hand. The ad, with its outrageous way of presentation, courted controversy.
Escaped ban
This controversial advertising campaign for spring-summer 2006 for Lee portrayed a young woman in sexually explicit pose; however, the advertisement watchdog considered it inoffensive.
The board dismissed the complaints about the campaign saying the ad was not appropriate despite having sexual overtones. The advertisement was being displayed at South Yarra railway station on a billboard.
According to the reports, the board held that the woman in advertising is over 18, and is dressed up in a fashion that is prevalent or fashionable among young women for summer.
Further, it ruled out that consumption of this style of lollipop is now frequent among young women. Many groups including the Australian Childhood Foundation had expressed deep anguish over the advertisement campaign.
On the other hand, the company has described its campaign as a tongue in cheek, a kitschy and over-exaggerated portrayal of classic denim poses. Following is the preview of entire campaign.
A church billboard which dragged Joseph and Mary to the hot bed of controversies
Image Source : openparachute.files.wordpress.com
A church billboard, which questions Christ's conception, created controversy in New Zealand, and beyond. The billboard, by Auckland's St Matthew-in-the-City Church, shows Joseph looking down dejectedly and Mary looking sad.
The equally controversial caption reads- 'Poor Joseph. God is a hard act to follow.'
Soon after the advertisers erected this billboard, there were many controversies surrounding the disrespectable tone of it. Within six hours of going up, critics of the ad had vandalized it.
But the church authorities, who claim that this billboard is intended to stir debate about the true aim of Christmas, resurrected the billboard.
AIDS campaign makes Saddam, Stalin, and Hitler turn in their graves
This print campaign makes Saddam, Stalin, and Hitler turn in their graves in the name of AIDS awareness campaign. These sexually explicit, and to some extent repugnant images, left many people red-faced.
When WWF made an insensitive comparison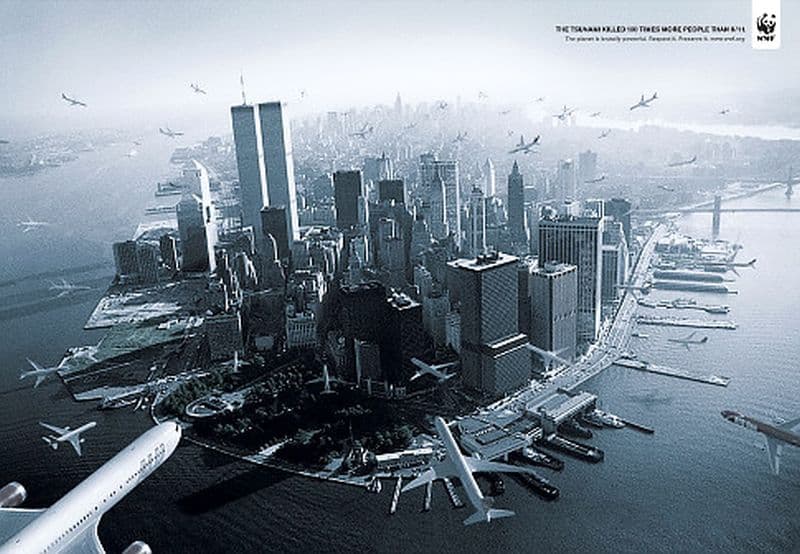 Image Source : grist.files.wordpress.com
WWF (World Wildlife Fund) is very popular for its innovative and impactful advertisements. However, it made a comparison between 9/11 and the 2004 Indian Ocean tsunami through this ad created by DDB Brasil. The ad said- The tsunami killed 100 times more people than 9/11.
The ad instantly created strong protest from many quarters because of its insensitive comparison.
This beaver is not that beaver
This commercial for Kotex featured a woman who describes her daily activities, with a beaver in tow. She tells the viewers- You only have one of them, so look after it.
But 'beaver' was actually a euphemism for female genitals.
'Well, at least he drives a Prius'.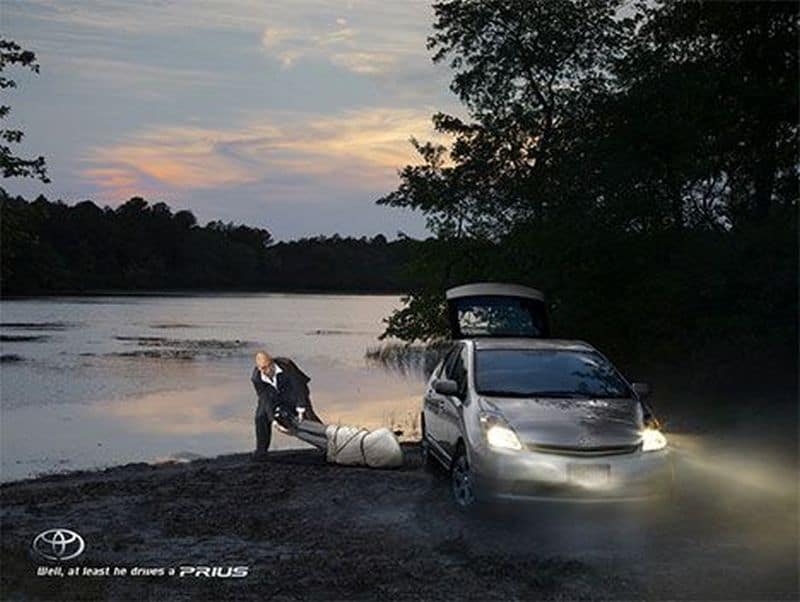 That was the catchline for this ad for Toyota, the Japanese automaker. The ad featured a man dragging a dead body and the experts deemed it as a promoter violence. This resulted in the ban of the ad.
Effective, but disturbing?
This is a controversial ad as part of the anti-smoking campaign- Quit Victoria. However, one noticeable fact is the advertising team had not deliberately cooked up the controversy. The ad, which featured a young child, separated from its parent, starts crying. Many parents found the ad disturbing.
Where the bloody hell are you?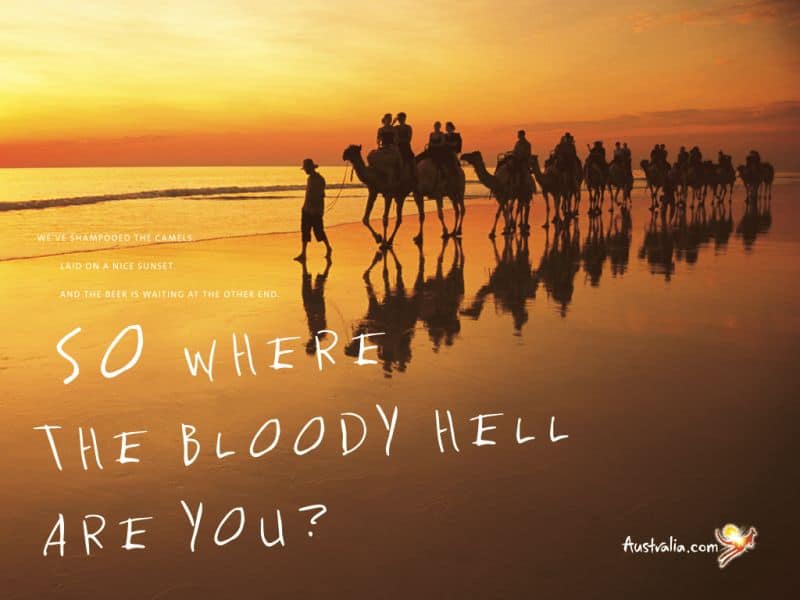 Image Source : theinspirationroom.com
OK, let us be informal. If you are my friend, I mean, a damn good friend, ok it's not a problem hearing this question. But this question made the Brits red faced because of its inappropriate language.
Look, this post card is not acceptable
Look, a movie by Adam Rifkin, tried to reveal some disturbing facts about video surveillance cameras and their omnipotence in our everyday life. But, one of the postcards with scenes from the movie has already created a disturbance.
The movie's producers intended to mail postcards with scenes from the movie and the copy 'Will you be watching? May 5, 2009'. In one of the post cards, there is a scene from the movie in which a man and woman having some kind of hanky-panky in a storage closet. The Post Office rejected the postcard, saying it is obscene€.
Making Devon Cream?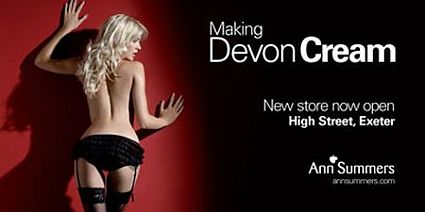 This poster advertisement launched by Ann Summers had attracted complaints for being offensive. The poster featured a topless woman with the strapline, 'Making Devon Cream'. The poster in question was displayed on the side of a van to promote the opening if a new outlet on Exeter High Street.
The complainants alleged that the advertisement was offensive particularly because it could be seen by children. However, advertisers argued that the ad van ran from Monday to Friday between 10 am and 5 pm only, when children would mostly be at school.
The ASA acknowledged in its ruling that children were unlikely to understand the strapline,€'Making Devon Cream'. (Haha)
The 'nurse angel' was a porn star
It was really an embarrassing mistake for the ministry of health in a Chinese city. The billboard featured a nurse with a tagline- The nurse angel, Serve healthy job……. – the league of the world health city
The censor board brought down the billboard immediately when they realized that the model appearing in the advertisement was a Japanese porn model.
Sony's joke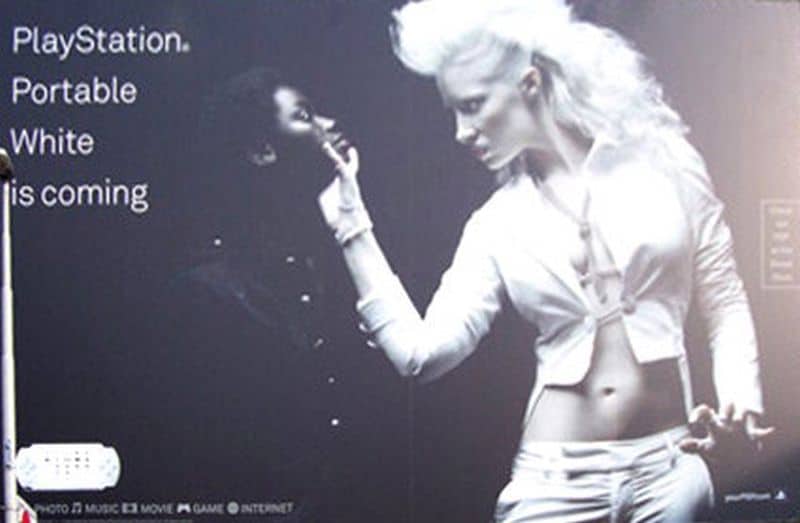 This Sony ad shows a white PSP avatar/model violently holding the mouth of a "black PSP" avatar/model.
Pamela Anderson, the 'hot business magnet'
The advert for internet company crazy domains features Pamela as a businesswoman who strips off her clothes to show a golden bikini.
But, alas, following complaints, the Australia Advertising Standards Bureau banned it.
No shocking, please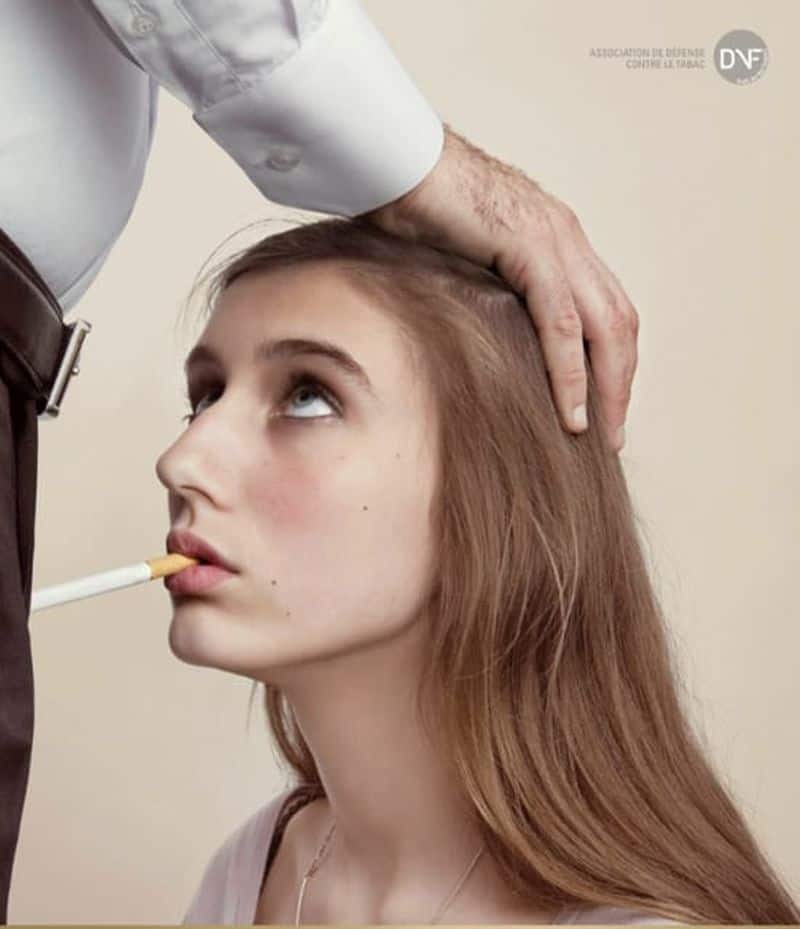 Smoking is injurious to health. We all know that and we have seen many anti-smoking campaigns presented this message through different ways. Well, this 'different approach' which is the point of discussion is a bit shocking.
This new campaign from the French anti-smoking organization Droits des Non-Fumeurs compares smoking among teenagers to forced oral sex. The campaign, in fact, is trying to make an analogy of the submissive nature of these two things.
Ready for some hot action? ASA won't allow
The advertisers urged prospective customers to get ready for some hot action. But, before the customers can do anything, the advertising watchdog took hot action and banned those ads.
The magazine spots for Swank Poker, an online poker room, was banned by the Advertising Standards Authority of the UK as it promoted gambling as a cause of sexual success.
The magazine campaign, which ran in a poker and gambling title called Flush, promised rewards like "serious erotic action" and "the opportunity to star in a movie with them.
One of the most controversial ads features a busty woman holding her breasts accompanied by the caption 'Will you hold this pair for me?' A second promotion, an advertorial, positioned Swank Poker as the very best in poker action coupled with the finest erotic entertainment that the civilized world has to offer€.