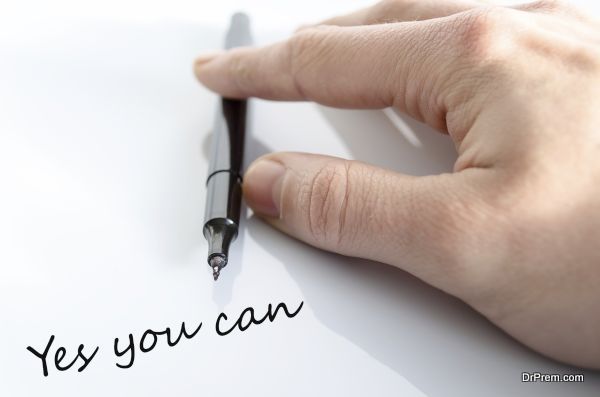 Success means different for different people. Apart from the usual stock of learning, diligence and hard work, what raises an individual to the high echelons of his career is his confidence. Success does not come easy but it becomes all the more difficult even for a highly knowledgeable and diligent worker if he lacks  self-confidence.
Despite all the capabilities an individual has, low self-confidence is a big impediment to lead a successful career. The consequences come to the fore in the form of overwhelming stress, frustration andself-esteem thatleadto a sharp plunge in the career graph. Here are a few things that you must do to develop a more confident personality.
Work on your mind
Confidence is a state of mind and there is no other remedy to correct it than confidence building mental exercises. An individual should try to focus on himself and mend the flaws in his personality. No man can be perfect but an individual can try to perfect his own personality.
Do not compare
It is good to take inspiration from someone but to compare is utter foolishness. You may have a flamboyant colleague sitting next to you or someone in your organization who gets constant pay hikes. So does it make sense toputyou parallel to that 'someone'? I think not.
Learn and do not emulate
Each one of us has a unique way and different style of working. Therefore, it makes no sense to copy the work style of others around us. It not only sheers away the novelty and originality from our work, but welose our genuine selfeventually.
Be positive
Each one of us has some bitter memories and they might pop up in our mind every now and then. These negative memories cast a burden of doubt and pessimism in our personality. Going to workplace with sheer load of negativity is bound to cast a mantle of inefficiency in our work and reflects a sense of low confidence consequently.
Focus on personal growth
Our personality grows as we develop mentally, physically and intellectually. To better our personality, we need to nurture our personalityconstantly. Working on weaknesses and building a personal aura that others willrespect and perhaps emulate will do the trick for you.
Create a personal brand
It works wonders if people know you for what you do the best. So make high of talent and strengths tomake you a brand. Recognition itself works as a great booster for self-confidence.
Do away with imposter syndrome
This syndrome affects mostly the more successful among us. Even when we are on the right trajectory, we might suffer from feeling of guilt, dejection, failure and non-fulfillment. Watch out for the tentative signs of such a thing that are coming through and correct yourself accordingly.
Remain healthy
Undoubtedly, theway to success is based on a healthy body and mind. Eat healthy foods, stick to dietary regime and exercise at least three to four times in a week. Exercising is not only a good way of remaining healthy, but it also relaxes mind. You can even go for some meditation sessions. A healthy and smart body naturally boosts ourconfidence and is reflected in the day-to-day activities we undertake.
An individual needs to open up the blocked channels of pessimism, delusion and frustration from his mind. Confidence is after all a state of mind and negative thoughts can never help us build a positive personality.