Videos in one language is the norm. However, through the internet your video might reach a person sitting at the other end of the world. But it's of no use if the viewer cannot understand a word of it. With Alugha, this problem can be solved as you can translate any language to another, suiting your target audience. Let's take a closer look at this online video translation tool, and see how it can be useful for video makers.
What is Alugha?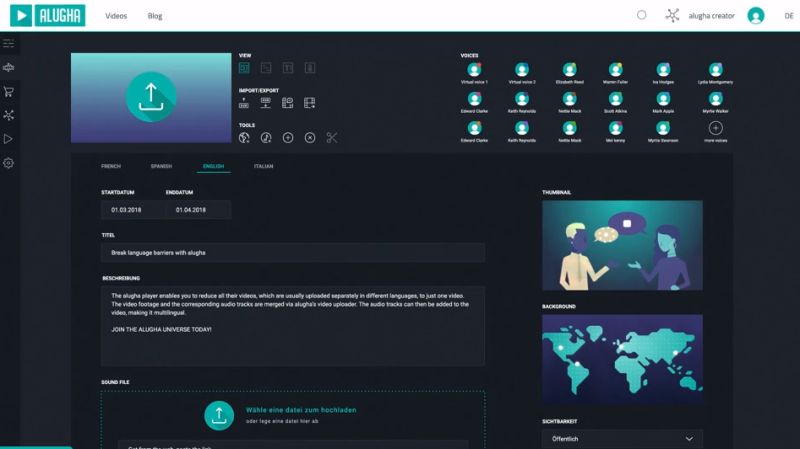 Image Source : alugha.com
Alugha is basically a one stop online video tool for translating videos. As it is cloud based, it need not be downloaded. It can be accessed anytime you want, from anywhere you are, through any browser. This makes it very convenient, as it is not confined to just one or two browsers.
A user just has to create his or her account on Alugha, and then start to translate.
The videos can be hosted on Alugha or on social media or YouTube. Creators can mention the languages the video is available in, in the thumbnails. Viewers can choose the language for streaming and subtitles. 
Advantages of Alugha
We have been used to dubbed videos, and videos with subtitles only with major streaming services. Or unless a company makes a special translated video for company presentations and so on.
With Alugha, you don't need the services of translators, but you can do it all by yourself. This saves a lot of money as you don't have to pay for the translators, as well as someone who would transcribe and write the subtitles for you.
Besides, collaborating with other people often leads to creative differences which is sometimes good, but mostly it wastes time. Sometimes, the collaborators are not efficient enough, or they are too literal which reduces the sentiment or explanation of the text/audio of the original language.
Alugha gives you the chance to independently change the translation and subtitles by yourself, to your satisfaction. You can spend time on translating your video and making it perfect and interesting for all who watch it, irrespective of language.
A video can be translated into more than one language too, which broadens your viewer base.
With storage in the cloud, you can access your videos whenever you want, and make changes to your video/s. This means that you do not have to hire an editing studio, but make the changes from your own home or office or other location, as Alugha is an online tool. All you need is an internet connection.
Thus, this is another big saving of money, as editing studios do cost a lot, and sometimes you have to compromise on the quality of work if you're on a budget. So, with Alugha, you can save the money you would need to hire an editing studio. 
DUBBR makes it happen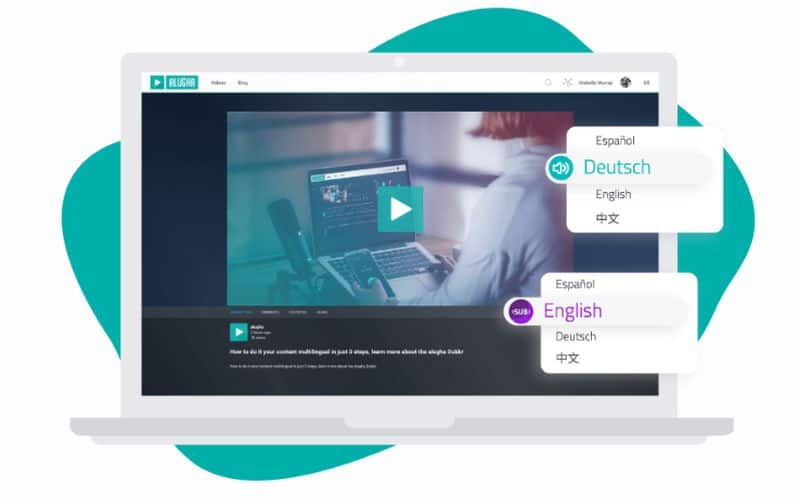 Image Source : alugha.com
As the name suggests, DUBBR is the space in Alugha where you can transcribe, translate and dub. There can be a lot of confusion and disorder if there are many people involved in translating a video, and it takes up a lot of time and energy.
With DUBBR, the process becomes much easier and less complicated. In one single tool which is cloud based, you have everything required to convert the language. DUBBR is available for all types of Alugha accounts, even free accounts. 
Other features
Hosting
Alugha offers video hosting too, so you can host your multilingual videos on this platform. It claims to provide resource friendly green hosting too. Encoding, file transportation, user friendly video uploader and a content delivery network spanning 39 cities are some of the other features on offer. 
Easy distribution
Alugha's adaptive video player is platform independent. There are no limitations as to where you can post or upload your video. The video can be embedded on your own website, as well as other web services such as Kickstarter, Twitter, Medium, YouTube and more. Your video can be seamlessly shared on any website or social media, depending on your requirement. 
Pricing
There are different pricing plans. For the beginner level, you get two audio tracks and 180 minutes storage. The small business plan gives you 5 audio tracks, 6,000 minutes storage for 39 euros. For 199 Euros, you get 10 audio tracks, and 40,000 minutes of storage.
And for the Enterprise level plan, which is meant for high volume video production, you have to shell out more than 199 Euros and the price depends on the number of tracks you choose, upwards of 20 tracks.
Alugha has other features which you get access to when you create an account and choose any plan. It is worth exploring and trying out if you want to make a mark globally with multilingual videos.