Creating business proposals need not be a time consuming affair anymore. You don't have to spend hours trying to create the best proposal for your clients, which would be effective and impressive as well. There are certain clients who belong to the same industry, or you may be offering only one type of service. In this scenario, it does help a lot when you have some proposals already made or you may want to vary the background – anything is possible with Quoters.io. 
What exactly is Quoters.io?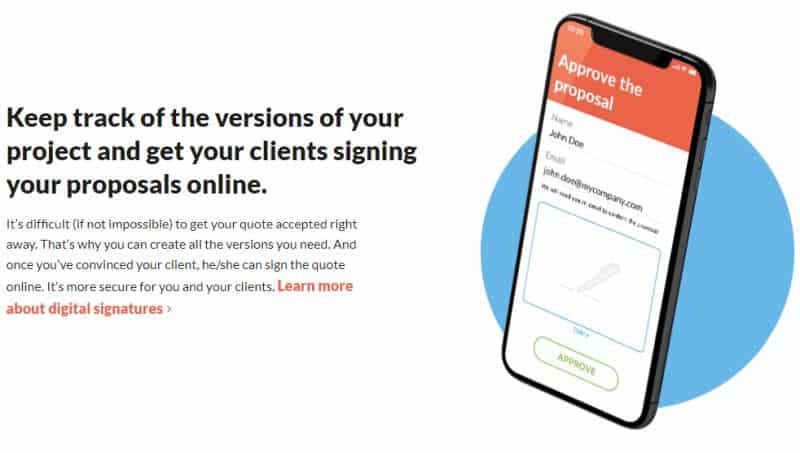 Image Source : quoters.io
Quoters.io is a great online tool for you to create proposals, contracts, sales documents and share these to your client digitally. There is no need to visit their offices to sign contracts as you can sign them digitally. All your data is saved in the cloud for future use. The benefit of saving the proposals is that you can close your business deals faster.
You can track your proposals, finalize the contract, and keep track of payment from one central software. Some types of proposals are repetitive – with Quoters, you only have to change the name of the client/organizations and mail the pricing to them, with maybe just a few changes. As the templates, format and backgrounds are there already, you can save a lot of time and energy, and send your proposal faster than your competition.
What I liked about Quoters is that I no longer have to depend on the drab and dreary Excel sheets, or draw tables on Word or use PowerPoint to create proposals. I was able to create excellent proposals with the premade templates. 
How does it work?
From the numerous types of templates that are available, you can choose the one which is suited for the type of business you are sending the quotation to. You can create your own templates too. Then start adding the items, costs and the price for each of the items in Quoters' special table for pricing. You will get help to set the rates too. After you have completed making the proposal, all you have to do is share it. The client will receive in an instant. 
Types of templates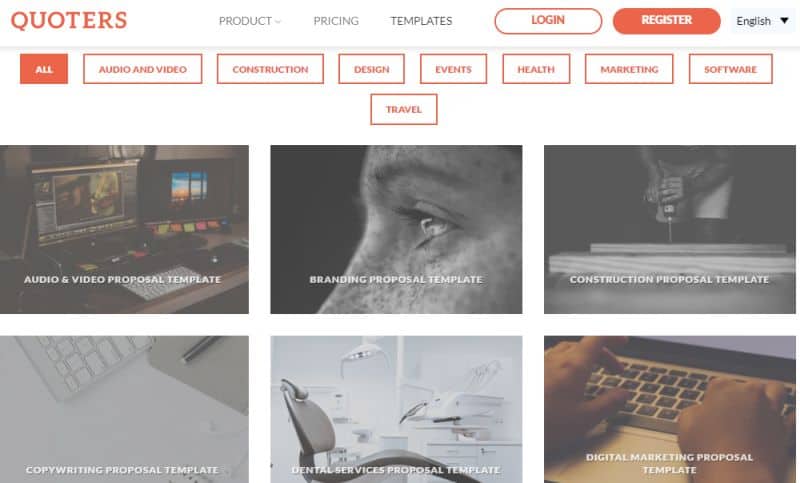 Image Source : quoters.io
I found a good selection of templates adapted to the most common types of business. Such as Audio and Video proposal templates, Construction templates, Design templates, Branding proposal template, Copywriting, Marketing, Dental Services, Health, Digital Marketing proposal template, Event Planning, Interior Design, Mobile App Development proposal, Software Development, SEO, Wedding Planning, Social Media, Photography – the list is endless, as you can imagine!
And if your proposal category does not match with any of these categories, then you can customize any template according to your requirement. You can update any template that you want to reuse too. 
Adding the hidden costs to your proposal to increase ROI
While making a proposal, it is easy to just list the items such as working hours of your team, yours or another professional/s, the cost of your service such as website design, and corporate photo shoot cost and so on. But mostly, business owners like you and me (however big or small the business), often forget to add the fixed, variable, indirect and direct costs such as electricity, rent, internet and more.
Quoters helps to add these hidden costs, but also keeps them hidden from the client. Only you have access to your hidden cost information. 
Sections make it easier to create proposals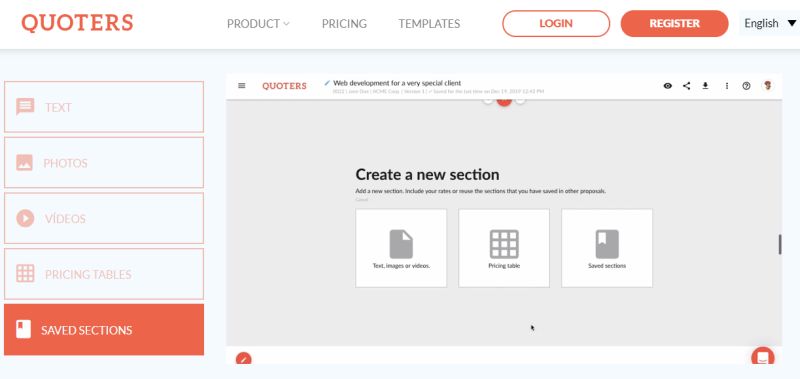 Image Source : quoters.io
Sections are the content blocks which make up the proposals, just like the slides or pages of other applications. There are three section types – one in which you can insert a text, video or image/s and tables. Pricing table is inserted on another section where you add the costs and rates and the last section is the saved section where you can access sections that you can reuse later.
By clicking the 'plus' button, you can add as many sections as you want, which can be after or below a particular section. Edit the sections with the 'pencil' button. You can organize and order the sections as you want.
What I liked about creating a proposal with Quoters, is its WYSIWYG philosophy  or, What You See Is What You Get. The proposal that you see is what your clients will see! 
Placeholders
Placeholders are another feature of Quoters that is very useful. There are some types of data that may be recurring in your work, and it is a waste of time to keep entering the same data over and over again. With the placeholders, the text fragments are inserted automatically. 
Create the contract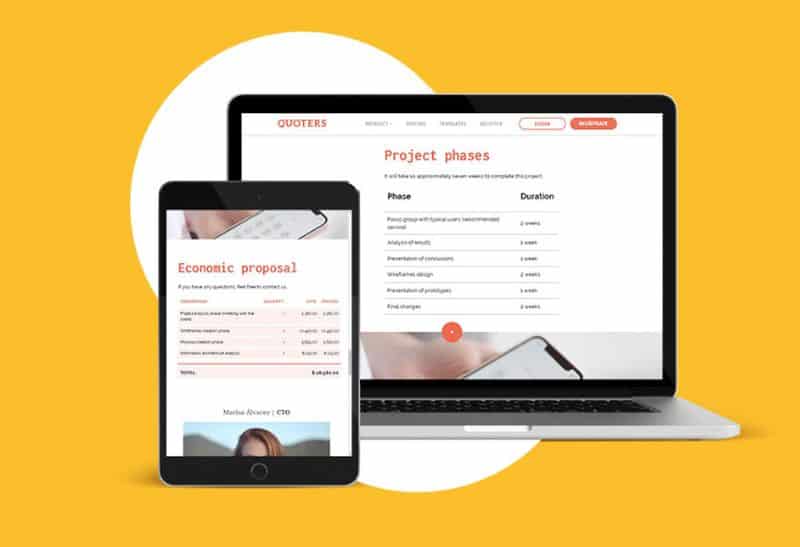 Image Source : quoters.io
After your client approves the proposal, you can go ahead and close the deal with a contract. With Quoters.io, your work need not stop ever, as contracts can be signed digitally.
You can choose from the Beginner Plan, Advanced Plan and Ninja plan and start creating stunning proposals and contracts with Quoters.io, and continue doing business as usual!