Giveaway tools are proven, effective tools to increase the awareness and engagement of your brand across various social media platforms. This awesome avenue can help you reach your target consumer base and you can soon see the sales figures skyrocket. You may have already been running your campaigns through posts, videos, images and so on, but investing a small amount of money in third-party giveaway tools will reduce your work and increase your ROI. Check out these social media giveaway tools and their features to understand the benefits of giveaways:
6 extremely useful social media giveaway tools
Wishpond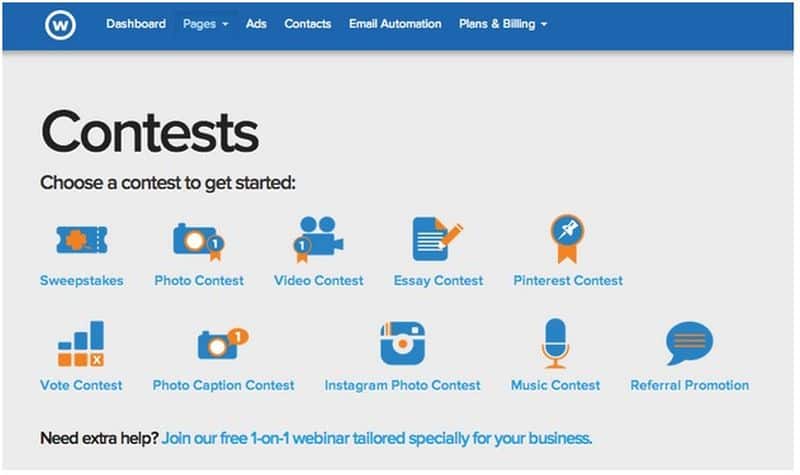 Image Source : corp.wishpond.com
If you are planning to run a giveaway, then Wishpond has some great features. Wishpond has 10 different types of social media contests. They also have promotions such as photo contests, coupons, sweepstakes, referral promotions, vote contests, which you can run on twitter, Facebook, Instagram, and these posts can work on tablet, mobile and desktop.
Wishpond's promotion apps include data collection from the voters of contests, thus creating a potential customer base for you. Facebook Like and Share popups will increase social engagement, referral awards, entry restrictions, custom forms fields will increase engagement.
To propel your giveaways through viral contests, you can use attractive templates and create contests which look great and work seamlessly. Wishpond also has real-time analytics, with which you can keep track of your campaign. The built-in A/b testing feature enables you to try different variations to enhance engagement.
Wishpond is simple to use social media giveaway tools,  a complete marketing suite which is perfect for your business.
Gleam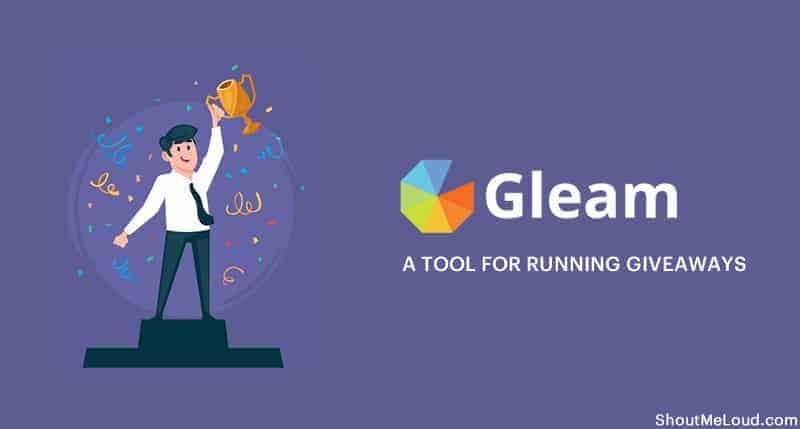 Image Source : shoutmeloud.com
Gleam is used by many as a social media giveaway tools to create online contest and sweepstakes. Gleam is preferred by many as it has a unique feature – it tracks and verifies each action taken by users. This is very useful to know how many users attempted to enter the contest, and how many did not complete all the actions required to enter your contest. This information can help you design better contests next time which might result in viral contests.
The other benefit is that you save a lot of time as you don't have to waste time on rejecting entries which do not fulfill all requirements.
For entrants too, the Gleam form is much easier as some type of entries in Gleam requires only one click, thus increasing the number of entries exponentially. With Gleam, you can set some repeatable entry actions, as well as give reward points to participants who share or tweet your contest every day.
Gleam allows embedding of YouTube videos where you can show visitors how to enter the contest and what they can win. Try out the free trial which also has a lot of features, and then go for the paid plans, which are also quite affordable.
Rafflecopter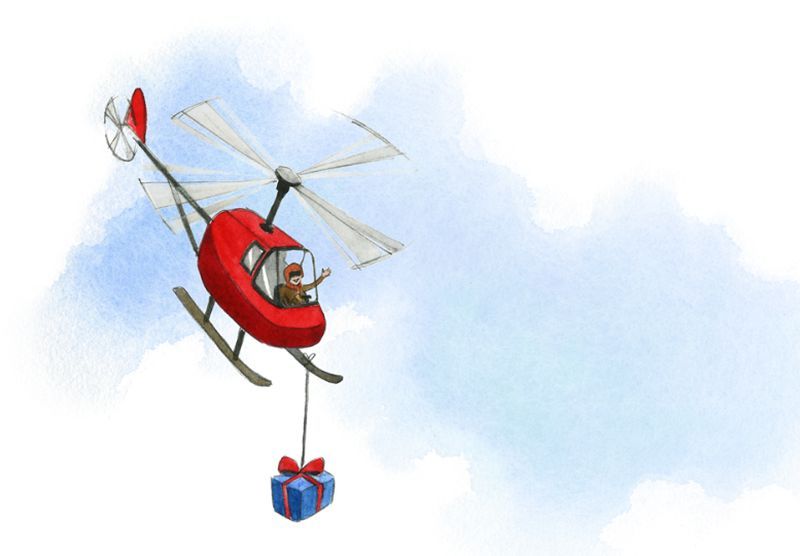 Image Source : homepage.rafflecopter.com
Rafflecopter is hailed by many as being amongst the many simplest as well as easiest ways to create online contest. Individuals running their own business use it for its fast pace and bigger brands use it for increasing the effectiveness of their campaigns. You can run a giveaway in less than three minutes. The giveaway can be integrated into your site, and by copy pasting the code, you can display the widget in your blog, Facebook, Instep etc. Rafflecopter has three plans – Basic, Premium and Grow. You can test their service and choose the plan best suited for you.
Shortstack
Shortstack is considered to be a great social media giveaway tools for running social contests on Facebook, if Facebook is one of the major marketing tools for you. Some brands have got responses to the tune of 200,000 entries which helped their Facebook followers grow by 200%.
Shortstack is effective for platforms such as Pinterest, Twitter and Instagram too. The drag'n'drop functionality, 90 templates, 30 themes, custom URLs allow even the untech-savvy people to run a giveaway contest easily.
Depending on the goal of your contest, Shortstack has the tools such as action-gate, to get leads, or collect information. Through Shortstack, you can run your campaign on any device and via emails, blogs and social media.
Free trial of Shortstack will give you 5,000 views, 25,000 Facebook Likes and 25 entries. You will get more if you choose their business plan, for which you have to pay an amount per month.
Woobox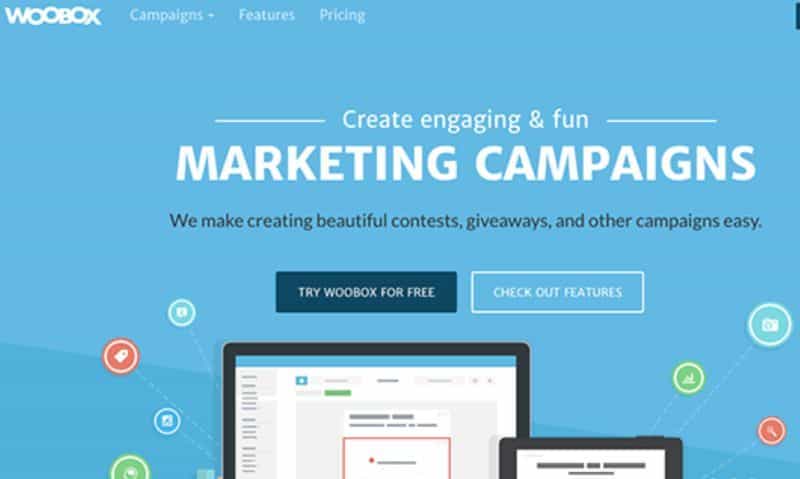 Woobox is used by a whopping 4 million businesses. This is one among social media giveaway tools, which offers sweepstakes, video contests, photo contests, coupons, group deals and so on. You can embed all contests on your Facebook page.
Odds based winnings, bonus number of entries for referrals, entries through social media are some of the features. Besides the ability to be hosted on various platforms and devices, your campaign can also be used as landing page campaign.
Submissions for entries is possible via direct uploads or by hashtags, content moderation and curation. Woobox also has the feature of fraud protected voting, which will make your contests genuine.
An excellent feature for small brands which do not have the money for branding through agencies, is Woobox's ready made campaigns which can be customized for branding control, exportable data, and analytics to track your campaign's status.
Agorapulse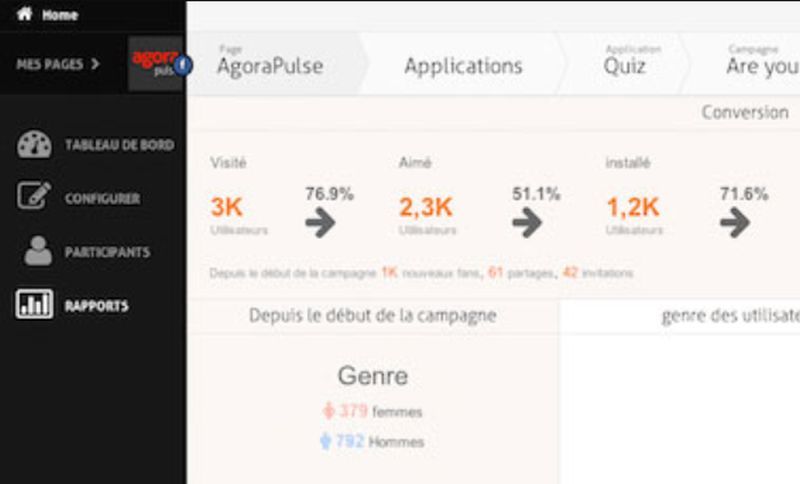 This is CRM, which has Facebook apps as well as analytics suite. The feature which sets Agorapulse apart is their thorough reporting system. If you're already using Facebook, then Agorapulse has in-depth reporting which is more intuitive. It is also more geared on focusing on the key metrics.
It also has ROI calculation, has insights into best times and days to post, and the type of medium that would give you the best engagement. Some of its FB apps are Facebook Quiz App, FB Photo Contest, Personality Test App, Instant Win App, Fan Vote App and Coupon App. You can try out the free features, and choose the quiz, sweepstakes or photo contest to start off.
Use these social media giveaway tools to get an edge over your competition. With one of these tools, you can establish your brand presence across several platforms and grow your business.